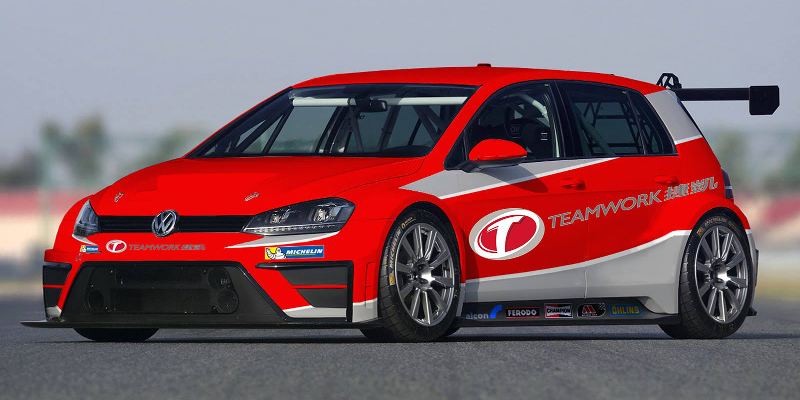 Chinese touring car outfit Teamwork Motorsport have revealed that Macanese racer Kevin Tse and Hong Kong-based American Bill O'Brien will race for the team in the 2016 TCR Asia Series.
Tse and O'Brien will compete at the wheel of the team's Volkswagen Golf GTi TCR racers in the ten-race season, which begins in South Korea on 14-15 May.
Macau racer Tse has gained extensive experience racing in Asia since 2005, having competed in the Lotus Cup, Formula Geely, VW Scirocco Cup, Lamborghini Super Trofeo, Porsche Carrera Cup, Asian Le Mans Series, Dubai 24 Hours and the Chinese Touring Car Championship.
"I am really looking forward to starting the TCR Asia Series season in just a few weeks," said Tse. "TeamWork Motorsport is a new team for me, but I have known a few key personnel from the team for some time so it's not completely 'new'.
"I know there will be some intense competition this year, so right now I am trying not to think too much about results. I just want to focus on my own performance and let the results speak for themselves.
"The TCR Asia race weekend is also a two-day program, which means learning the car and the circuit quickly is crucial. I hope my experience in different cars and tracks can create an edge for us."
American racer O'Brien has over 30 years of racing experience, with much of it being in Asia. Last year the American also formed his own racing team, BlackArts Racing, in order to promote Gentlemen drivers and young talent in Asia.
O'Brien's team immediately proved to be successful in the Asian Formula Renault 2.0 in its inaugural season, clinching the drivers' and teams' titles at the first attempt.
"I think my experience in racing plus TeamWork's expertise in touring cars will make us a strong squad," added O'Brien. "I may have relatively less experience in a front-wheel-drive race car, but the racing principles are the same.  I am sure once I get a good feel for the car, we can deliver some solid results."