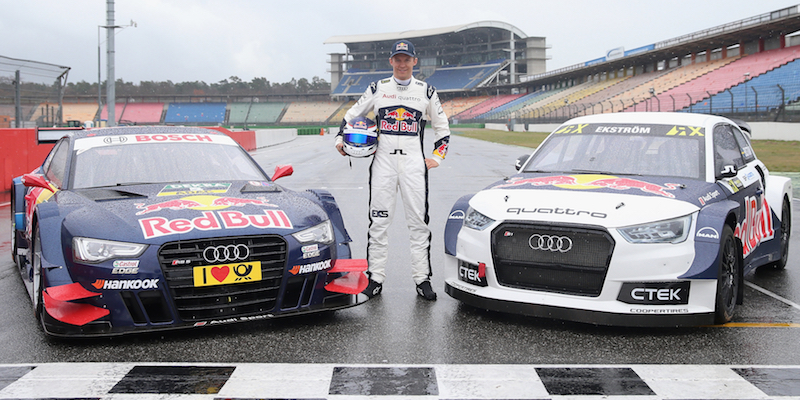 On the starting weekend of the 2016 Deutsche Tourenwagen Masters season, Audi Sport's Mattias Ekström will have a very busy schedule, as he will be competing in both the DTM and the FIA World Rallycross (WorldRX) Championship at the Hockenheimring.
Ekström will be piloting his Audi S1 EKS RX around the Baden-Württemberg circuit, as well as taking part in the first two races of the DTM calendar. This is as a result of the scheduling by both championships for the weekend's action.
"Being able to race in the DTM and in rallycross at Hockenheim is like Christmas and Easter combined on a single day for me," said the Swede, who is looking forward to racing against the likes of Petter Solberg, Ken Block and former WTCC alumni, Sébastien Loeb.
"On Friday and Saturday, I'll definitely be on the grid. On Sunday, the time between the DTM qualifying session and the final rallycross races is pretty short. But, I'd have to qualify for the RX finals to begin with."
The 37-year-old, who created the EKS RX team back in 2014, is just one of the many Audi Sport drivers that are allowed to compete in other series thanks to the decisions made by Dr. Wolfgang Ullrich, alongside their commitments with Ingolstadt.
"Many of our factory drivers have programs alongside the WEC or the DTM, for instance in Formula E, the Super Formula in Japan or in GT racing," said Audi Sport's Head of Motorsport.
"With each race, they gather additional experience that we benefit from. This applies to Mattias as well, who has invested a lot of passion in building his rallycross team and, what's more, competes in an Audi."
The first weekend of the championship starts on Friday, May 6th, with eight former champions and a total of 24 drivers looking to take the #1 after Mercedes-AMG DTM's Pascal Wehrlein last season.