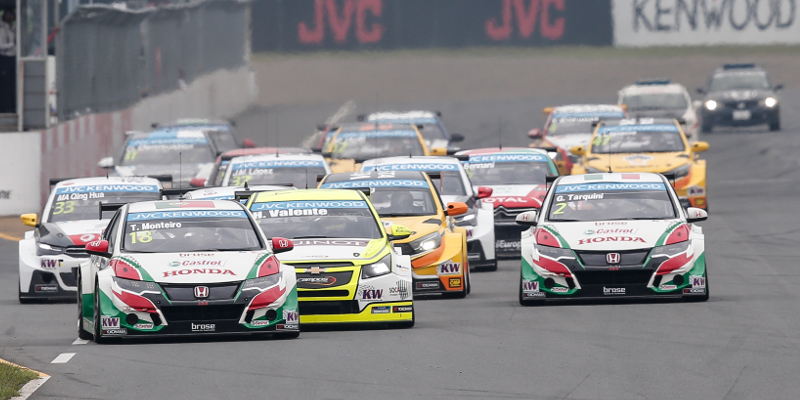 Twenty entry submissions have been made to the 2016 World Touring Car Championship (WTCC), promoter Eurosport Events has revealed.
In addition to two new entries from Volvo Polestar Cyan Racing, there will be an increase in the number of Honda Civics on the grid, after the works team increased to three cars and independent outfit Zengő Motorsport lodged two entries.
The works Citroën team have scaled back to just two entries for reigning champion José María López and Yvan Muller, down from the four in 2015. However, the number of C-Elysées on the grid will remain the same thanks to Sébastien Loeb Racing fielding three cars for Mehdi Bennani, Tom Chilton and Grégoire Demoustier.
The only announced driver who is previously unknown to the series is 21-year-old Swede John Bryant-Meisner, who is an ex-Formula 3 racer. The entry of Nika Racing is currently provisional, subject to final FIA approval.
Zengő Motorsport are expected to announce a duo of young up-and-coming Hungarian drivers, to follow in the footsteps of Norbert Michelisz, who has moved up to the works' Honda team.
Elsewhere, German René Münnich makes a return to the series, following a year out in 2015. The Münnich Motorsport driver will not be able to complete the full season, however, due to clashing commitments with the FIA World Rallycross Championship. He will therefore share his seat with substitute drivers, yet to be revealed, over the course of the season.
Head of Eurosport Events François Ribeiro believes that the series has secured a strong entry list for the current season, considering the global economic conditions.
"To get 20 cars entered in a very tough economic climate is great news and a ringing endorsement of the WTCC and all it has to offer drivers, teams, manufacturers and partners," said Ribeiro. "While we welcome a number of established racers, it's very exciting to see a new crop of young drivers planning to take part. We will monitor their progress closely as they bid for the top."
| | | | | |
| --- | --- | --- | --- | --- |
| No. | Driver | Nat | Team | Car |
| 2 | Gabriele Tarquini | | LADA Sport Rosneft | LADA Vesta WTCC |
| 3 | Tom Chilton* | | Sébastien Loeb Racing | Citroën C-Elysée WTCC |
| 5 | Norbert Michelisz | | Honda Racing Team JAS | Honda Civic WTCC |
| 7 | Hugo Valente | | LADA Sport Rosneft | LADA Vesta WTCC |
| 9 | Tom Coronel* | | ROAL Motorsport | Chevrolet RML Cruze TC1 |
| 10 | Nicky Catsburg | | LADA Sport Rosneft | LADA Vesta WTCC |
| 11 | Grégoire Demoustier* | | Sébastien Loeb Racing | Citroën C-Elysée WTCC |
| 12 | Rob Huff | | Honda Racing Team JAS | Honda Civic WTCC |
| 18 | Tiago Monteiro | | Honda Racing Team JAS | Honda Civic WTCC |
| 25 | Mehdi Bennani* | | Sébastien Loeb Racing | Citroën C-Elysée WTCC |
| 27 | John Filippi* | | Honda Racing Team JAS | Chevrolet RML Cruze TC1 |
| 37 | José María López | | Citroën Total WTCC | Citroën C-Elysée WTCC |
| 61 | Fredrik Ekblom | | Polestar Cyan Racing | Volvo S60 TC1 |
| 62 | Thed Björk | | Polestar Cyan Racing | Volvo S60 TC1 |
| 68 | Yvan Muller | | Citroën Total WTCC | Citroën C-Elysée WTCC |
| 77 | René Münnich | | ALL-INKL.com Münnich Motorsport | Chevrolet RML Cruze TC1 |
| 89 | John Bryant-Meisner* | | Nika Racing | Honda Civic WTCC |
| TBA | TBA* | | Campos Racing | Chevrolet RML Cruze TC1 |
| TBA | TBA* | | Zengő Motorsport | Citroën C-Elysée WTCC |
| TBA | TBA* | | Zengő Motorsport | Citroën C-Elysée WTCC |