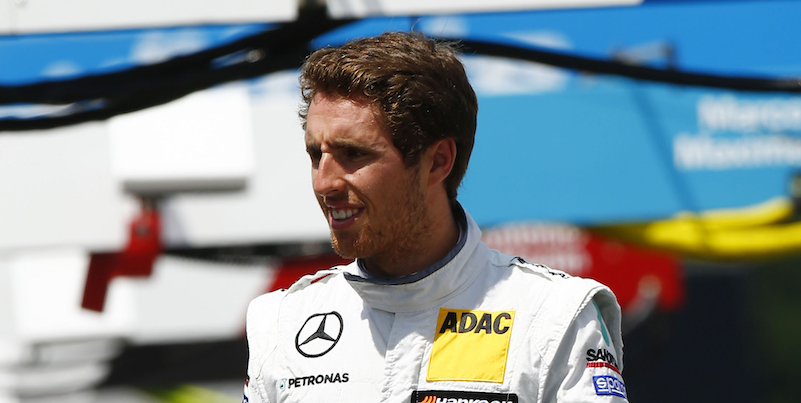 Since his Deutsche Tourenwagen Masters (DTM) début in 2013 with Mücke Motorsport, Spain's Daniel Juncadella has shown flashes of great racing, coupled with unfortunate events over the past three seasons with Mercedes-AMG DTM.
He's been close to securing podium finishes, with his best results being 4th at the Norising in his maiden season, along with the same position at Lausitzring the year after.
He took the drivers' title in the FIA Formula 3 European Championship back in 2012 with Prema Powerteam, which helped to ensure his promotion to the DTM the following year, but after three years at Mücke, the 24-year-old now moves to HWA, pairing up with Robert Wickens.
"The atmosphere at Mücke was really good, but personally, I wasn't really happy with the results," said Juncadella, who recently spoke to TouringCars.net.
"Last year, Mercedes won the title with Pascal [Wehrlein], but for the last three years, I wasn't scoring as many points as I had expected."
The Spaniard, who also served as Formula One's Sahara Force India as their reserve driver in 2014, sees his move to what is considered the most successful Mercedes DTM of all time as a "step forward."
"It's a great feeling, so for me, it's a big challenge and gives me plenty of motivation. Joining a team such as HWA is great and the atmosphere already is really good, and I basically know everybody in the team, because Mercedes has been a pretty big family when it comes to the DTM teams. It's quite easy, even if you get shifted from one team to another."
Juncadella also gave his thoughts on how the situation is progressing on the advancement of the "show," especially with ex-DTM racer, Manuel Reuter, being the head of the DTM Drivers' Association.
"We're making steps forward with the DTMDA, especially with Manuel's help. It's always very positive to get good thoughts from someone like him. This is what you need, when it comes to talking with ITR and the manufacturers, and the regulations being decided.
"The best people know what's best, when it comes to the fans, as well as agreeing the best compromise for the drivers. The DTM is heading in the right direction, but some things could be better, which includes the way the weight penalties were issued."
Due to results from based on manufacturer results, drivers like Juncadella were in the top five, when the weights were decided for each round. He also had the fourth-heaviest car on the grid, when it came to the season finale at Hockenheim.
"We all wanted to make it more driver-related, rather than manufacturer-related, which it was last season. For example, last year, I scored in eight or nine races, which wasn't a big amount of points, but I was still getting the same penalty as my teammates for the race."
Another aspect that has been a talking point is the standardized tyres that current supplier Hankook provide, as Juncadella says that the majority of the drivers want to have a tyre that degrades, which gives a good burst of performance initially, but slowly drops as the race progresses.
"All the drivers agree on the tyre situation, but we'd like it closer to the option tyre that we had in the past, which would be a good choice, and in turn help the racing become more exciting.
"That's always going to be especially in DTM, where everything is just so close. This would put the racing more into the drivers' hands and minds, where they will have to think more about different situations, rather than just going out for your qualifying lap and flat out for an hour race This is because the difference is still close between us."
It seems that DTM is still a very prevalent stepping stone to Formula One, as both Paul Di Resta and Wehrlein have made the transition after winning the DTM, which could be the case for a certain Esteban Ocon, who makes his first full début in just over six weeks at Hockenheim.
"I would say Esteban is one of the best rising talents around, with what he's done in Formula 3 and in GP3," explained Juncadella, who also said that new DTM test driver, Sweden's Felix Rosenqvist has a good chance to progress in the series. "Now he has the role with Renault Sport, it's a bit like what happened with [Max] Verstappen."
It also appears to come down to actually having a direct involvement, which has helped to fast track Wehrlein's progression to Formula One with Manor Racing, but being the DTM champion isn't necessarily a guarantee.
"Let's say I win the championship this year. In all honesty, I don't see myself going to Formula One in 2017. It was the same for Marco Wittmann in 2014 when he won the title, but I think that he should still get the same chance."