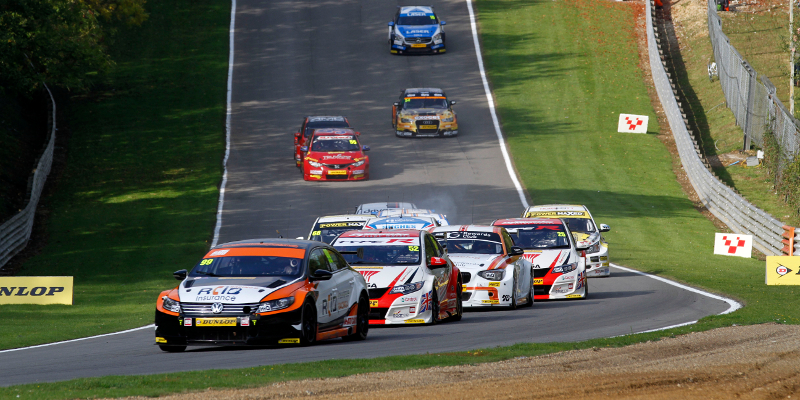 Following the publication of a confirmed entry list at the official Season Launch, it has been announced that a capacity 32-car grid is set to compete for the 2016 Dunlop MSA British Touring Car Championship.
This season has seen unprecedented interest in the UK's premier tin-top series, with all 32 TBLs (TOCA BTCC Licences) now allocated by series organisers. A further two potential entries were turned away from competing this season as a result.
This year, five former champions will aim to further etch their name into the history books, with defending champion Gordon Shedden likely to come under intense pressure from team-mate Matt Neal, the Team BMR duo of Jason Plato and Colin Turkington, and Motorbase Performance's Andrew Jordan, who is looking to reinvigorate his career.
The Manufacturer prescence in the series is equally strong, with Subaru joining the fray with BMR and a fleet of brand-new Levorg Tourers, alongside returning champions Honda and their old rivals MG. West Surrey Racing will also compete as a Manufacturer entry once more. The independent's category is likely to be equally competitive, with Adam Morgan, Tom Ingram and a host of other young chargers aiming for their first taste of championship glory.
In addition to the usual suspects a crop of new faces will appear on the grid this season in the forms of Chris Smiley, Michael Epps, Mark Howard and Kelvin Fletcher.
Commenting ahead of the new season, Series Director Alan Gow shared his views on the exciting prospects the upcoming campaign has for spectators and punters alike.
"This truly is a golden era for the BTCC and our developments in recent months further underline its strength and position as Britain's most successful motor sport series – and by a very big margin.
"I'm also really pleased with the increasing amount of new talent that's been coming into the BTCC over the last few years. Make no mistake, many will go on to become the future 'household names' of the BTCC and are set for great long-term careers in Britain's biggest championship.
"With our title sponsor, television, tyre and technical partnerships all secured until 2022 it not only underlines the incredible strength and success of the BTCC – but also importantly provides a rock-solid foundation on which our teams can continue to invest and build their businesses.
"Our fantastic capacity line-up for 2016 looks set to be even more competitive and enthralling than ever – I'm genuinely excited to see how the season unfolds. The anticipation amongst our enormous number of fans is also very plain to see… the off-season has been full of intrigue.
"These really are the 'good old days' that, one day in the future, we will look back on with great fondness and delight. But today is all about the 'here and now' and we're all looking forward to witnessing another classic year of the BTCC."
The added technical obstacle of the new RML components is also set to shake up the grid this season, with an opportunity presenting itself for a number of teams and drivers to capitalise on the new regulatory parts and steal a competitive advantage on their closest rivals in the early rounds. Given the closely-fought nature of the series in recent years, this could prove vital come the series finale at Brands Hatch in October.
2016 BTCC entry list