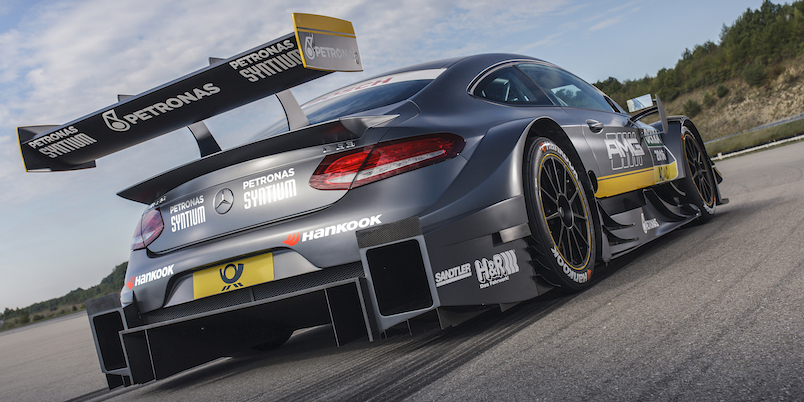 With the first three day Deutsche Tourenwagen Masters (DTM) test set to take place at Spain's Monteblanco circuit between the 23rd and 25th of February, Mercedes-AMG DTM have now decided the team pairings for the forthcoming campaign. This test will also see the debut of the Stuttgart brand's new challenger.
2005 Champion, Gary Paffett, will remain at ART Grand Prix, but will be joined by new recruit Esteban Ocon for the French outfit's second season in the DTM. Ocon's association continues with ART for another season, following his success as GP3 Champion last year.
"I'm pleased to be back as part of the ART Grand Prix team. I won the GP3 Series title with them last year, so it's fantastic to be working with them again and hopefully continuing our successful adventure together,' said the 19-year-old.
Lucas Auer, who secured his first pole position in Oschersleben last season, will now be reunited with Mücke Motorsport, and is joined by Christian Vietoris, who now starts his six season in the series. Both drivers have raced in Formula Three with Peter Mücke in their careers, leading up to their graduation into the DTM.
"This is like a homecoming for me after spending the last four years as a member of the HWA squad," explained Vietoris, who currently has one win and four podium finishes to his credit.
"A change of scenery for me always summons up extra energy and gives me an extra boost of motivation. So I believe Mercedes took the right decision to shuffle the drivers around. Although I have many friends at HWA, it's still a great feeling to make a fresh start."
This means that Maximillian Götz and Daniel Juncadella move to HWA for the 2016 season, being paired with 2010 Champion Paul Di Resta and proven race winner, Canada's Robert Wickens.
" We decided to rearrange the allocation of drivers for the upcoming season to provide new impetus," explained Head of Mercedes-AMG DTM, Ulrich Fritz, who stated that a change for some of the drivers would help, in terms of motivation.
"In particular, the exchange of ideas and of new approaches to dealing with challenges is to everyone's benefit. We made sure that, in arranging the team, we combined DTM experience with youthful thirst for action. The best example of that is certainly the pairing of Gary with Esteban, but the same goes for the combinations of Paul and Max and of Christian and Lucas."