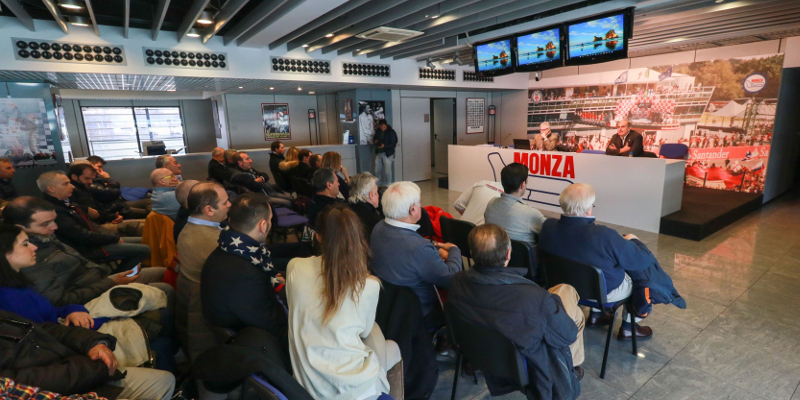 The 2016 Italian Touring Car Championship (Campionato Italiano Turismo, or CIT) for TCR cars was launched at the Autodromo Nazionale di Monza at the weekend, with a Saturday press conference at the circuit heralding the dawn of the new series.
For its first year the championship will adopt the TCR technical regulations for its main category, before adding a second-level 'TCS' class for new cars.
A number of cars were exhibited in the paddock, whilst also in attendance were representatives of numerous tuners, teams and drivers, including Top Run Motorsport, who are designing and building Subarus for TCR, and Romeo Ferraris, who are developing the new Alfa Romeo Giulietta car to the TCR regulations.
"There is a lot of enthusiasm as it was proved by today's attendance," explained Roberto Marazzi of ACI Sport Italia. "We have already seen a number of cars that have been built and are ready to race, while others are currently being completed in the workshops. This is the reason why we have elected to fix the opening event of the championship at Monza, on May 21, together with the TCR International Series."
Meetings will consist of two races of 25 minutes plus one lap, with a number of titles up for grabs depending on the entrant class (TCR 2.0l, TCS 1.4l, 1.6l, 1.8L and 2.0l respectively). Qualifying will consist of two 15 minute sessions, one each for race one and two respectively.
Uniquely, the championship allows two drivers to share one car, with their combined score allowing them to compete for their eligible class title.
The 2016 CIT will be run over the course of seven race meetings, beginning with Monza on May 21.
2016 calendar
| | | | |
| --- | --- | --- | --- |
| Round | Country | Circuit | Date |
| 1, 2 | | Monza | 21 – 22 May |
| 3, 4 | | Misano | 11 – 12 June |
| 5, 6 | | Magione | 2 – 3 July |
| 7, 8 | | Mugello | 16 – 17 July |
| 9, 10 | | Vallelunga | 3 – 4 September |
| 11, 12 | | Imola | 24 – 25 September |
| 13, 14 | | Adria | 8 – 9 October |