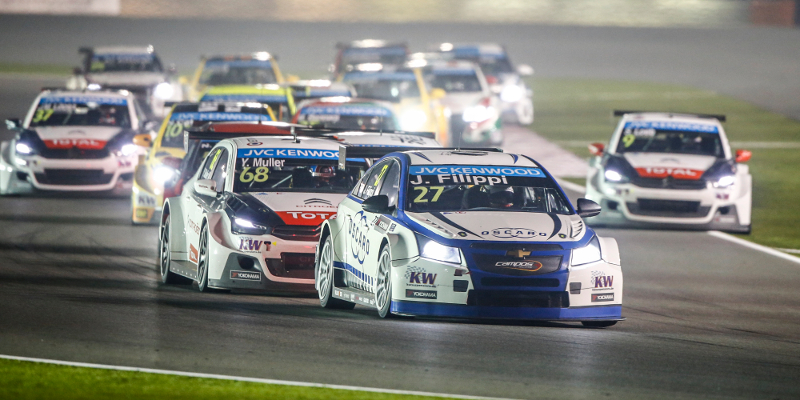 New sporting regulations will be introduced for the 2016 World Touring Car Championship (WTCC) season, including changing the reverse grid race to be the first of the weekend.
Since the resurrection of the current-day WTCC in 2005 the second race of the weekend has always featured an element of a reverse-grid. However for 2016 that particular rule will be moved to the first race of the weekend, so as to ensure that the fastest drivers must first survive the opening race before being able to take up pole in race two.
François Ribeiro, Head of Eurosport Events, says that the change has come about in an effort to simplify the race format for the casual viewers.
"We never found it easy to explain to fans, media and guests the race one / race two concept, with the poleman not starting on the front row for the last race of the weekend," explained Ribeiro. "Together with the FIA, manufacturers, teams and drivers, we took the collective decision to simplify the race format.
"The objective is to increase the spectacle and make the structure of the weekend easier to explain by ensuring we leave the best to last, which is the case with the vast majority of sports. At the same time, it was very important to keep the reverse grid format for what is now the opening race."
The first race of the weekend will thus now be referred to as 'the opening race', with the second race referred to as 'the main race'.
In order to add to the appeal of the main race, the distance will be increased by one lap at all circuits except the Nürburgring Nordschleife, which will remain as two three lap races. The modifications to the format are, according to Eurosport Events, intended to build the drama over the course of the weekend.
Elsewhere, the amount of compensation weight carried by the fastest cars is set to increase, with an increase of 20 kg to 80 kg for the most successful car.
Independent teams are also set to receive a larger share of the prize money, which has been doubled to €500,000 for 2016.
Additionally, the new MAC3 manufacturers' time trial announced earlier in the year has been given the go-ahead by the FIA for next season.
Finally, in a move to reduce costs, the race weekend at all non-European events will be run over the course of two days, instead of the usual three. Two free practice sessions will take place on the opening day, followed by qualifying and two races on day two.