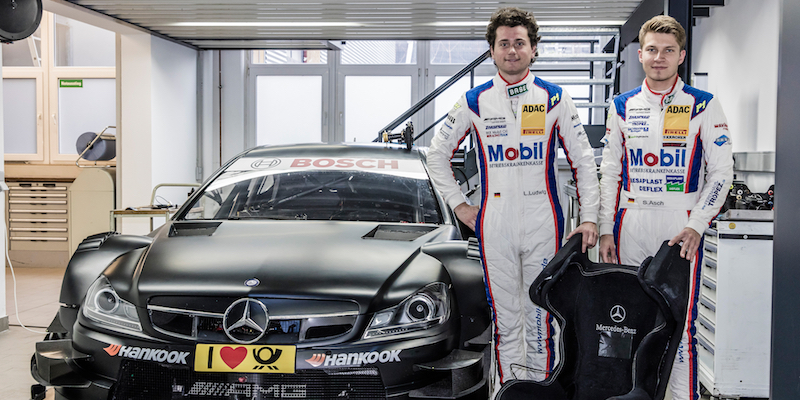 ADAC GT Masters champions Sebastian Asch and Luca Ludwig will be driving the 2015 Deutsche Tourenwagen Masters championship-winning Mercedes-AMG C63 DTM on Monday (30th November), as a reward for securing Germany's premier GT racing series this season.
Asch has won the GT Masters twice, as DTM rookie Maximilian Götz was paired with the 29-year old back in 2012, with both titles secured with the SLS AMG GT3.
Asch's father, Roland, along with Ludwig's father, Klaus, both competed for the Stuttgart brand in the DTM in the 1990s, with the latter having a well-known rivalry with Bernd Schneider, securing two of his three titles with Mercedes.
In true fashion, Götz was also awarded a test drive back in 2013, before making the transition to the DTM this season, showing that the AMG Customer Sports Programme works.
The combined experience that the pairing have with regards to the SLS AMG GT3 is 76 races, and they are both looking forward to the opportunity.
"The SLS AMG GT3 is a fantastic racing car," said Asch, who said that the test in the car that helped Pascal Werhlein to this year's drivers' title "can't come soon enough!"
"I'm really pleased to be testing another Mercedes-Benz championship winner, the Mercedes-AMG C 63 DTM."
27-year-old Ludwig, who started racing eight years ago, expressed that taking part in the test will be "an emotional moment," after having a great season working with Asch.
"I can remember my childhood and teenage years, growing up as a son and fan of the Mercedes-Benz family and following all the races. To see the Ludwig name associated with a Mercedes-Benz DTM car once again after a gap of over 15 years, makes me feel tremendously proud."
""Promoting young talent has a long tradition at Mercedes-Benz," stated Head of Mercedes-AMG DTM, Ulrich Fritz, as Wehrlein is the youngest ever champion in the DTM's history.
"We will continue to go down this route in the future. We've made it possible previously in the past for drivers from the AMG Customer Sports Programme to test one of our DTM cars. I am in no doubt that Sebastian Asch and Luca Ludwig have got the talent needed to really impress in their DTM test."
Alongside their forthcoming test, both drivers will be teaming up with their fathers at the forthcoming Stars and Cars event on December 12th, which will be broadcasted live on Germany's SPORT1 channel, along with Mercedes providing a mainstream live feed via starsandcars.mercedes.me.