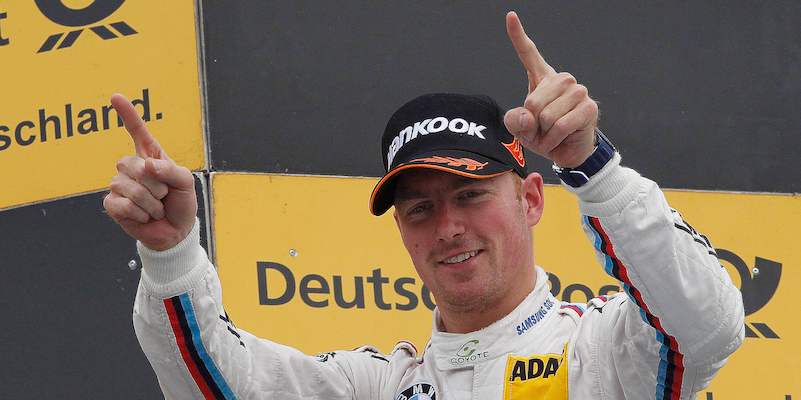 Team RMG's Maxime Martin took his third podium of the season at the penultimate race of the Deutsche Tourenwagen Masters (DTM) at Hockenheim, despite taking pole position earlier in the day.
The Belgian spoke with TouringCars.net after the race, admitting that the pace in qualifying was better, but said that he struggled with grip in comparison with Timo Scheider and Jamie Green, who secured an Audi 1-2.
"I think overall that the race pace of the Audis were just too quick for us. I tried to just keep on track, and to score maximum points. This is because we can not forget that we are fighting for the manufacturers' championship, which is the main goal.
"Being on the podium is good, which is good points for BMW, as well as having both Marco (Wittmann) and Tom (Blomqvist) in the points. But we have to be really focused for tomorrow, and even better to go for the win."
When asked about the struggles that BMW had in the earlier part of the season, when it came to the sole compound tyres that Hankook had supplied, he said that the team were "working together" to come back at the opposition.
"We had a clear picture at the beginning of the season, which was really bad, but that's how your work with the team," said the 29-year-old, who is set to complete his second DTM season with BMW on Sunday afternoon.
"BMW has been successful in the DTM for several years now, but this has been the toughest one for them.
"We see that working together as a team, to get everything right, to score points when we could and try to minimize things when we were not fast. That is what we have done for the season.
"The ballast helped us a lot this year, but on the other hand, we also scored points when we were not expecting it. Tomorrow is another day, but the focus is the same, which is to win for BMW."
Martin is just a single point behind Mercedes' Gary Paffett in the drivers' standings, which could see the BMW driver ahead of the Briton, if he has a successful result on the final day of the season.