Jake Hill says he expects to contest a full season in the British Touring Car Championship next year off the back of his one-off appearance this weekend at Brands Hatch.
The 21 year-old, who is deputising for Nicolas Hamilton in AmD Tuning's Audi S3, brought the first practice session to a halt after spinning at Graham Hill bend.
But explaining his incident to TouringCars.Net, Hill said he had taken some time to get used to his new machine and expected to settle into the S3 in the day's practice and qualifying sessions.
"The car feels cool; I like it a lot," he said. "The first thing was getting back into front-wheel drive – it's been a long time since I was in a front-wheel drive car, racing anyway – but I'm getting on with it fine.
"It just caught me out once. I was struggling a bit for rear tyre temperature and that caught me out but the general feel of the car is good, hopefully we can build on that in FP2 and get a good, solid session in and get ready for qualifying."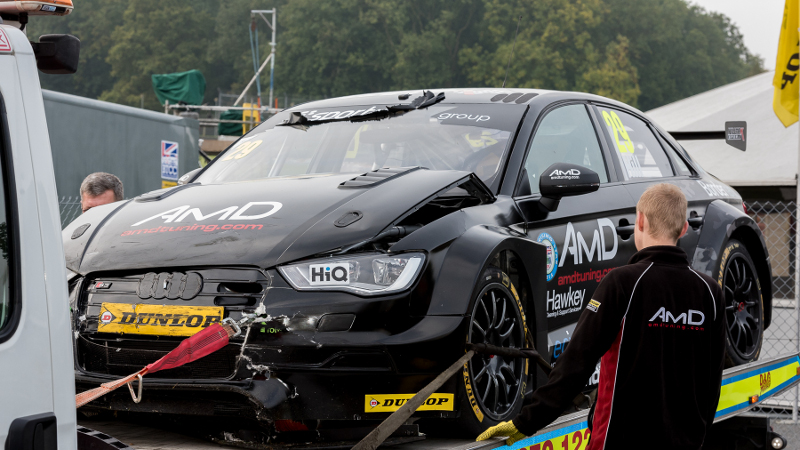 The former Ginetta driver also admitted that, following this weekend's outing, he was planning a full assault for 2016 with Shaun Hollamby's squad.
"I want to stay here with Shaun and focus on having a full year of it next year. This is a springboard – Nic couldn't do it which is unfortunate; everyone would have wanted him to stay and complete the year at least.
"For various reasons he can't do it so it's a case of me just jumping in and seeing what it's like before having a proper go next year."
Hill also said that should he stay on, the S3 would be his likely vehicle, while he was also confident that the team would secure a second TBL – which would allow himself and a second driver to both compete for points next year.
"I plan to stay in the Audi and continue with AmD. It's been an alright year in GTs and I've had good fun with the Porsche. Shaun's always wanted me to come to touring cars with him and it's nice to have this opportunity to come at the end of the  year.
"I know there are probably going to be some new cars again next year but I think that the TBL for this car is safe.
"There are talks of another shell being built and potentially the Focus going elsewhere. It's all talk at the moment, nothing is firm. At the moment it's just these two cars and until the end of the year who knows what's going to happen car-wise."