Honda's Gordon Shedden struggled for appropriate words to describe his second British Touring Car Championship title after a majestic drive to fourth in the final race of the season.
Shedden led rival Jason Plato by 12 points heading into the season finale, but faced the prospect of losing the crown to his rival with a place on the tenth row on the grid – with Plato starting in second.
That quickly became first when Plato jumped Shedden's team-mate Matt Neal on the exit of Paddock Hill Bend on the opening lap, which required Scotsman Shedden to finish sixth or higher to claim the title.
But Shedden rose to the occasion, picking off cars in the early laps before carving his way through the top ten in the latter stages, with a pivotal move around the outside Rob Collard at Paddock Hill securing the necessary position.
Shedden put the title beyond all doubt when Neal slowed to allow him through, and despite a hairy moment with Jack Goff as the pair jostled for third the 36 year-old crossed the line in fourth to claim his second title by four points.
"You take them any way you can get them!" said Shedden, when asked by TouringCars.Net if a second title was sweeter than his first. "When I won the first one it rained on race day and we were really, really good in the wet and Jason wasn't – we had a real performance advantage then.
"Today has been the ups and down and emotions – I can't explain it but this is really, really sweet."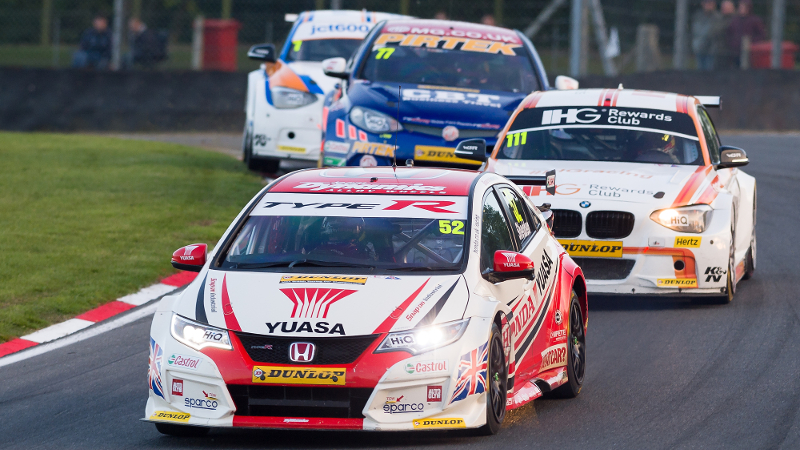 Assessing his campaign, the new double champion admitted that he hadn't been sure if the title would go his way before the final race, but felt that his drive , and consistent level of performance throughout the year, were deserving of the crown.
"It was like an impossible dream at the start of race three – given where Jason and I started I thought this is a long shot at best.
"But taking that bit of ballast out to get us back to base really brought the car alive and I gave it everything. I thought I'd rather fight and take the risks – if I end up off or I get a puncture or whatever, I'd rather do that trying to win the damn thing than cruise round and finish in second."
"I've worked really hard since Snetterton which was obviously a disaster and I've got a lot of points back since then and some pretty on-the-edge qualifying laps have set up my weekends for the last couple of rounds.
"When I was sat on the grid at the start of race three, I was thinking 'this one is going to be bloody hard to win'. There was such emotion on the day and I don't think it's really sunk in because it just seemed so far away at the end of that race.
"But I gave it everything – as I have done all year – and just hung it all out and tried my hardest."
Shedden also paid tribute to his team for preparing his championship-winning car, especially given that he and Matt Neal started the season with a lack of testing mileage compared to their rivals.
"We joke that the paint was still wet when we arrived here at the start of April and it wasn't far off on my car. But you're only as good as the car you're sat in and the one that [Team] Dynamics and Honda have given me this year is just incredible.
"I have to thank them because without the car, without their support all the way through until the end and their belief in me – it wouldn't have happened."