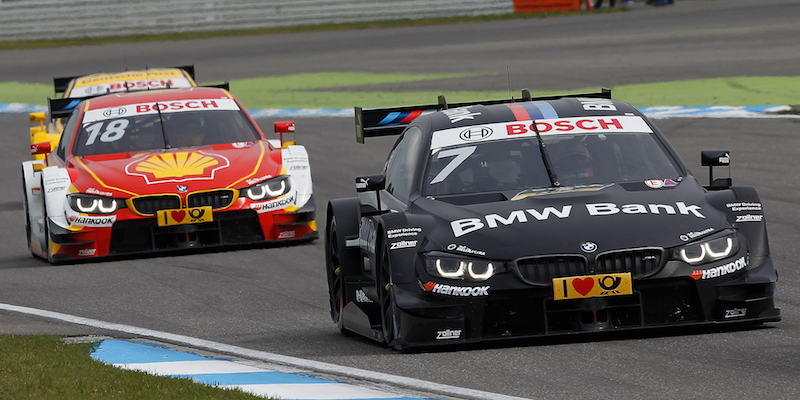 BMW Motorsport are looking to end their 2015 Deutsche Tourenwagen Masters (DTM) campaign on a high, as the Munich manufacturer is in pole position to regain the manufacturers' crown after 18 races.
This weekend also sees a mathematical chance for 2012 champion, Team MTEK's Bruno Spengler, to be able to take his second title in the series. However, it will require for the Franco-Canadian to be able to strike, if rivals Pascal Wehrlein, Edoardo Mortara and Mattias Ekström faulter over the weekend's proceedings.
BMW's Jens Marquardt explained that due to both "passion and team spirit," that the combined efforts of all eight drivers could potential bring the Munich manufacturer its second constructors' title since 2012.
"The big milestones on this journey were obviously our five victories in Zandvoort, Oschersleben and at the Nürburgring," said the Motorsport Director, as BMW currently has 554 points after 16 races.
"We currently top the standings, and will do everything in our power to ensure we remain in first place after the final race of the season and take the trophy for the best manufacturer back to Munich again."
He is aware that both Audi and Mercedes have a chance for the title fight to turn out differently, as all three brands are separated by 82 points overall.
"We must all pull together again for one final push to get good results in both races. We are certainly well-prepared for the finale. The atmosphere in Hockenheim will definitely be fantastic again."
Spengler is looking forward to racing at one of his "favourite circuits," as Hockenheim was the scene of him securing his first title back in 2012, with Gary Paffett losing out by just four points.
"The atmosphere at this year's season-opener was fantastic. It is obviously impossible to predict what this weekend has in store for us," said the 32-year-old, who was found great form in the latter part of the season, putting him fourth on 119 points.
"We still have a very slender mathematical chance of winning the Drivers' Championship. Even though this is extremely unlikely, one thing is certain: we will do our best to give one big final push at the end of the season."
With the team titles set to be going to either gooix/Original-Teile Mercedes AMG or Audi Sport Team Abt Sportsline, Ernest Knoors' Team MTEK have had their best season so far.
The Dutchman's Garching-based outfit has had it's first double podium this year, as both Timo Glock and Spengler helped to secure their first 1-2 DTM finish back in the first race at Oschersleben.
""Our third year in the DTM has also been our best. No other team has had more appearances on the podium than we have. We have also claimed one win and two pole positions," he explained proudly, with MTEK currently equal third with Stefan Reinhold's Team RMG on 175 points.
"I am proud of my mechanics, engineers and drivers, who have done a highly-professional job and shown great fighting spirit in every race. We will now give it our all again in Hockenheim – then we will see where we end up in the overall standings."
Outgoing champion Marco Wittmann, who ended last year with the #1 plaque after becoming the youngest German DTM champion in the series' history, will look to end a difficult title defence year in the best way possible.
"The races at the Hockenheimring are always great fun. The circuit has a lot of variety to it. There are many high-speed corners, but also a lot of tight bends, in which it is possible to overtake. It will be a very special weekend. Our main goal is obviously to defend first place in the Manufacturers' Championship and bring the title back to Munich."
With all the drivers looking assist to assist Munich in their quest to take back a title that could have been theirs last season, it could prove to be fruitful if success is measured in strength of numbers.