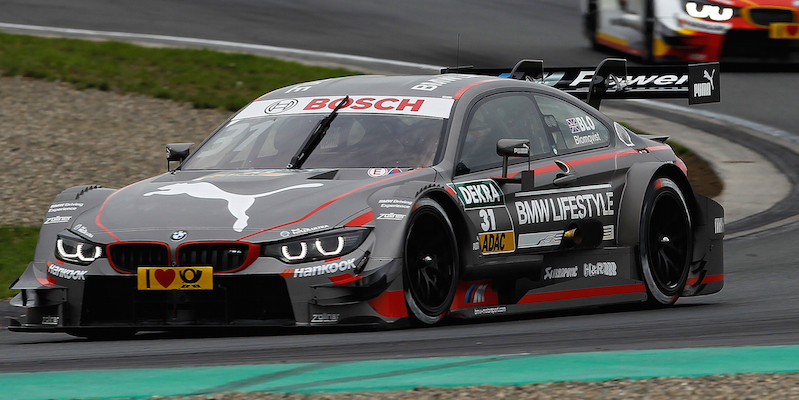 Just 14 races into his Deutsche Tourenwagen Masters (DTM) career, Britain's Tom Blomqvist secured his first career win at Oschersleben, where BMW Motorsport was dominant throughout the weekend.
The 21-year-old becomes the youngest BMW driver to win in the DTM, with only Mercedes' current points leader, Pascal Wehrlein holding the all-time current record.
The Brit made his move into turn one on Sunday, pulling ahead of pole sitter Augusto Farfus, before being able to break the DRS window, as Timo Glock had done the previous day.
"The start was key. I knew it would be easier for me if I could get into the lead. I feel far more comfortable when I can pull away at the front, explained Blomqvist, who also set the fastest lap of the race.
"That is what I am used to from single-seater racing. In single-seater racing cars, you do not follow so close as you can in the DTM. As soon as I was out in front and had a clear track in front of me, I knew I just had to drive every lap as though it was a qualifying lap.
"The car was very good. I was able to open a gap ahead of Augusto, and returned to the track with a healthy lead after the pit stop. I was actually never under any great pressure. However, it was a long race."
Along with Team RBM team mate Augusto Farfus bringing home a welcome 1-2 for Bert Mampaey, Blomqvist helps to maintain a perfect record for BMW, as all their current drivers have won at least one DTM race.
"It is fantastic to have got my first win under my belt. I have now achieved that goal," he said, after what has been a difficult season so far.
"We are now looking for similar success in the closing stages of the season."
Blomqvist now goes into the penultimate round at the Nürburgring with 41 points to his name, as he looks to improve his position in the drivers' standings, where he is currently 16th behind Maxime Martin.