An emotional Tom Ingram struggled for words after he secured a maiden British Touring Car Championship podium in Race Three at Rockingham.
Leading away from pole, Ingram was quickly caught by Team BMR's Jason Plato, but put on an impressive show to keep the double champion at bay for a number of laps.
Ingram finally relented on lap 14 when Plato blocked his line exiting the Deene hairpin – having been unsuccessful on three previous occasions – but Ingram nevertheless took plenty of plaudits for an impressive display.
Speaking after the race, The Speedworks driver was overcome by emotion, having achieved one of his life-long ambitions.
"100, million, trillion percent," said Ingram when asked if the result was the highlight of his career. "This is what I've dreamt of my whole racing career, to get a podium in touring cars, and I've done it.
"To get it against Jason too makes it even more fulfilling. It's such an awesome moment and I don't think I'll stop smiling or crying for the next few days."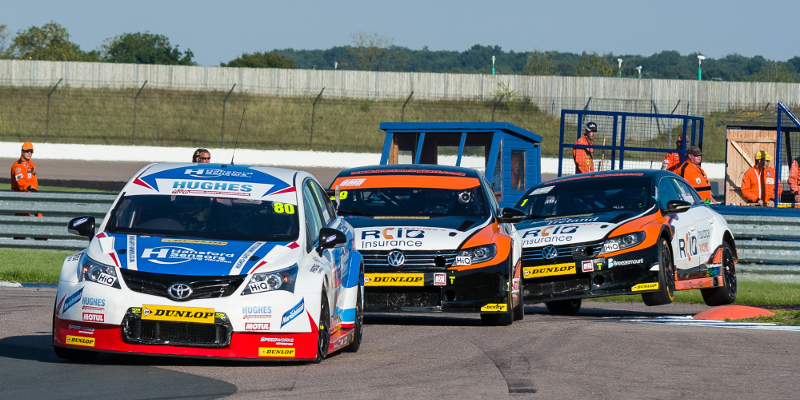 One of the most impressive features of Ingram's podium was the nature in which he held two-time champion Plato back, and asked by TouringCars.Net about his drive the 22 year-old said he felt he had lifted his performance given the significance of the position he was fighting for.
"When the chance is there you definitely do [raise your game]," he said. "This was the best opportunity we've ever had to get a decent result and it goes some way towards making up for all the bad luck and rubbish that we've had over the last couple of years that has just got in our way or the reasons why it didn't happen.
"I just did everything I could to hold on – I knew Jason was quicker in the first section, leading down to Turn 2 and that's where I had to be at my most defensive, I had to hold him up there because I knew I was quicker than him on the rest of the lap but that was where he could get me every time.
"I tried to use my few years of experience I've got, [but] I don't how I held him off for as many laps as I did to be honest.
"Had it not been for the safety car it might have been a different story altogether but I definitely can't be disappointed with second.
"It's good to shut everybody up and say 'we've done it' – it makes it so much better."
Of those lauding Ingram's performance, none were more complimentary than race winner Plato, who praised the young driver's defence of the lead.
Those words were gratefully received by Ingram, who said he had reveled in the pair's battle.
"It goes some way to show the respect that Jason has got [for me], I'd like to think. He could easily have just given me a little tap into the breaking zone and sent me wide, and no one would really have thought anything of it because he's going for the championship and who am I to be in his way?
"To not do that and actually have a proper, proper battle was unbelievable. It was absolutely amazing – when you're racing with the best you expect to race your best races and that's certainly what happened."
There was double reason to celebrate after race as the second place also marked Speedworks' first podium in the championship, and Ingram said he was only too pleased to reward its efforts with a rostrum finish.
"It makes it so much better – it's such a small, family-run operation," he said. "Everybody puts so much hard work in.
"I'm such a small cog in that operation so to repay them with a second place is great, I think we'll all be smiling for the next couple of weeks."