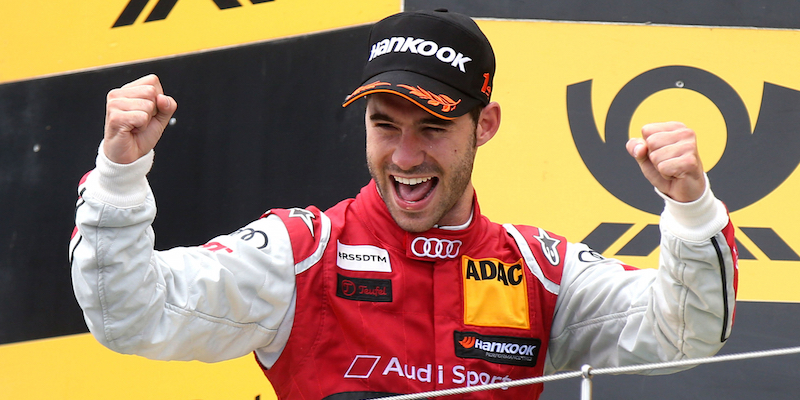 After five years and 67 starts in the Deutsche Tourenwagen Masters (DTM), Spain's Miguel Molina finally secured that elusive first win in the series, as well as becoming the first Spaniard to do so.
Along with Molina and BMW's Tom Blomqvist, BMW's António Félix da Costa is the other driver that has secured their first career win in the DTM this season, along with 12 different winners this season.
"It sounds fantastic," explained the Team Abt Sportsline driver, who took the victory after securing pole position on the Sunday morning.
"Winning in the DTM is very special because it's a highly professional racing series with a strong field. I worked for a long time for this moment, always believed in myself and never gave up. All this makes this day so sweet that I'll certainly never forget it."
Molina was able to control the race from the onset, as he was able to bolt away from the rest fo the field with an electric start, building up a gap to around three seconds before the Safety Car was deployed.
When the action resumed, he was able to cruise to victory, eventually ending up 7.5 seconds ahead of second place finisher, Paul Di Resta.
"Seeing the checkered flag was a huge relief. "You did it, you finally did it" – that's what I kept telling myself," said the 26-year-old, whose best result until his first win was second at the Hungaroring in 2014.
He went on to state that it wasn't just his efforts that the trophy belonged to, after such a dominant win: "It was the many people around me who supported me: Audi, my team, my family and the fans of course. The trophy belongs to all of them a little bit."
Molina's track record at Hockenheim is one that speaks for itself, as he has claimed pole position there before, which includes the season finale last year, but he enjoys the pressure of competing in the DTM.
"Once you've clinched a victory, you want more of the same. But I really enjoy this kind of pressure because it's simply part of my job as a professional race driver. I'm looking forward to Hockenheim. The track suits me and I've always handled it well, so why not again this year?"
The Spaniard now moves up in the standings to 16th overall, just a single point ahead of Britain's Tom Blomqvist on 54 points.