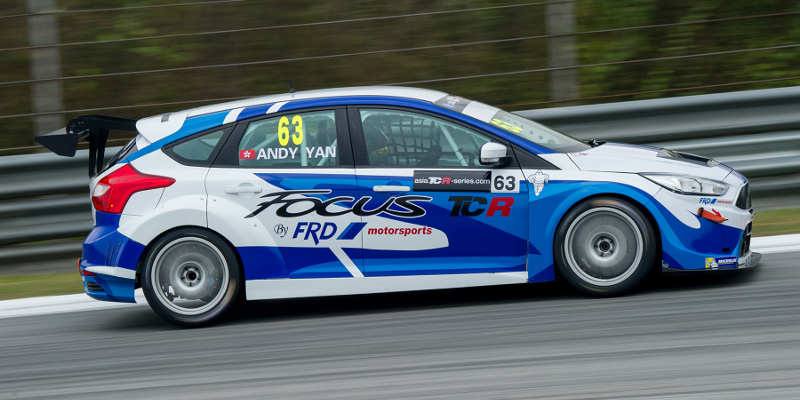 The FRD HK Racing Team are confident of making steps forward in this weekend's TCR Asia Series races in Singapore, with team boss Kenneth Ma explaining that the team believe they have identified the problems which blighted them in Malaysia.
Andy Yan was one of the fastest drivers in the previous round of the TCR Asia Series in Malaysia, but electrical gremlins forced his retirement in all three races.
The team have since gone over the Onyx-built car and believe they have found the problem, as explained by Team Principal Kenneth Ma.
"Since Malaysia we have been right through the car ahead of Singapore and believe we've found the problem that stopped us in Sepang," Ma explained. "It was frustrating to know we had the pace to put Andy [Yan] at the front, but were unable to keep the car running for the full length of the three races.
"In part it was because of the late arrival of the car [for the opening TCR Asia race], but we made the decision to run because it gave us valuable track time, and showed us where we were against our competition."
The team were also hoping to campaign a second self-built car for Ma in the previous round, but plans were scuppered when the second engine did not arrive in time from the UK.
The team will still run one car this weekend in Singapore, where the Asia Series merges with the International Series for the Formula One-supporting races, with Ma taking over driving duties from Yan in the first Focus.
"As a driver it was tough standing on the sidelines, but it was also important to get the most out of the car, even with the challenges," added Ma. "This weekend though I'll step into the driver's role for Singapore, taking over the car Andy drove so brilliantly in Sepang as he unfortunately has commitments elsewhere this weekend.
"The new car that FRD have built is in Malaysia still, and the team are finalising the installation of the engine and sorting any potential issues before we ship the car to Thailand and Macau for the final two rounds of the year.
"I'm looking forward to joining the TCR program at Singapore – one of Asia's most exciting venues – against the top TCR drivers in the world, it's going to be a fantastic weekend!"