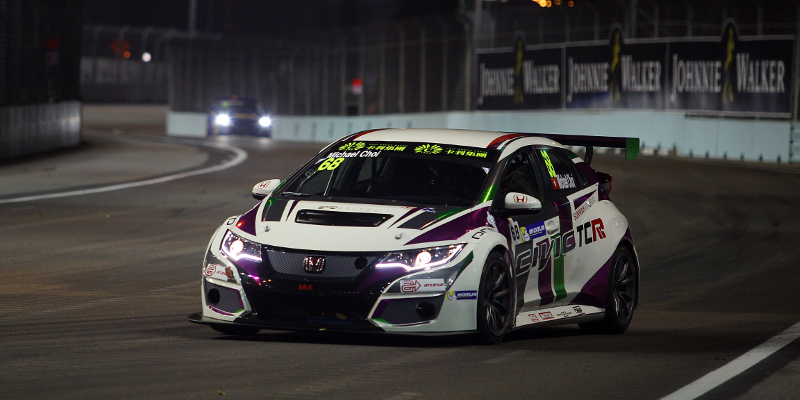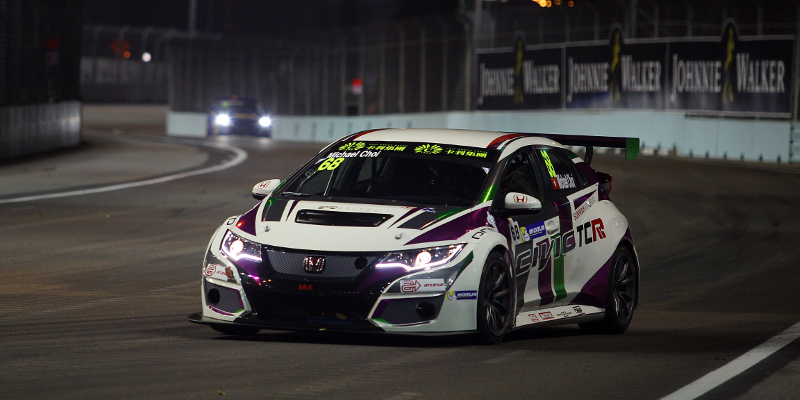 Hong Kong racer Michael Choi scored a double victory in the TCR Asia Series races in Singapore, as the series competed with the TCR International Series in support of the Singapore Grand Prix.
Choi took victory in the first-ever TCR night race on Saturday, having inherited the lead when his rivals made contact and dropped out of contention.
The Prince Racing Honda driver benefitted when class pole man George Chou and Frank Yu made contact, which initially spun the Craft-Bamboo Racing driver to the rear of the pack.
Chou was then involved in contact with Roadstar Racing's Filipe Clemente de Souza which stalled his progress, allowing Choi to take victory at the front in his Honda Civic.
"It is very nice to win among the TCR Asia cars," said Choi after his first win. "I wasn't expecting that and I thank my team for the very good work. I was lucky that some of my quicker rivals got tangled in incidents ahead of me.
"It was a very interesting experience to race with the drivers of the TCR International Series. Their level is very high and I can learn a lot from them."
Choi's team-mate Kenneth Lau did not fare as well, retiring from the first race with a gearbox issue. However race two saw Lau finish third in class, giving Prince Racing a strong double podium result.
"[It's] very frustrating," admitted Lau. "Michael has shown how quick the car can be, but mine is struggling with just little issues, this time a bolt in a sensor came loose and I was unable to shift gears."
The results move Choi to the head of the driver's standings on 88 points, 11 ahead of Philippe Descombes, who won twice in the opening meeting in Malaysia but was not present in Singapore. Lau is tenth overall in the standings after a number of retirements from the first five races of the season.