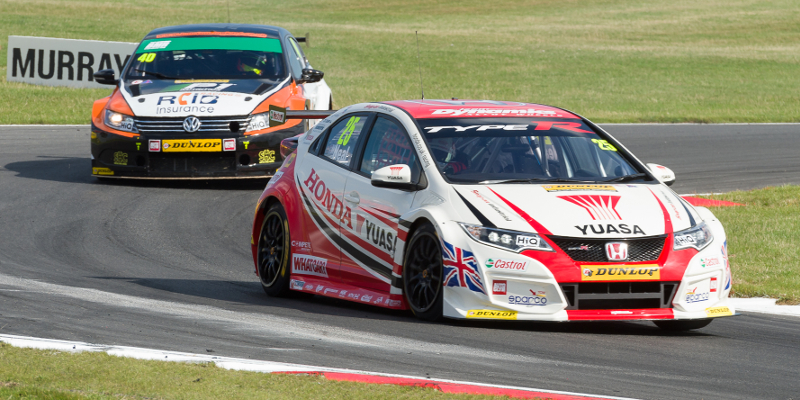 Honda's Matt Neal is expecting a tough trio of races in the British Touring Car Championship (BTCC) at Snetterton, after the Honda driver struggled for top speed on his way to qualifying in fifth for race one.
Neal, who carries 57 kg for being third in the championship at the mid-season break, professed to having mixed emotions after qualifying despite beating championship leader and team-mate Gordon 'Flash' Shedden.
"I'm disappointed, but pleased with fifth," said Neal to TouringCars.Net. "I was hopeful of a bit more, but couldn't get the time out of it on the second set of tyres.
"It's tough going out there and we didn't fare too well on the speed traps after that run. Flash seemed to fare a bit better than me with more weight, so we're just trying to get to the bottom of that now. You're only looking for fractions to be at the front. It's just all so very tight.
"We've both gone for the softs in the first race, so I'm going to try to be on the front foot and take the fight to the VWs."
Neal praised the performance of his Civic Type-R around the Snetterton circuit, adding that the car is much better than the Civic Tourer of 2014.
"It's more agile. The engine works better, so it's a big step forwards in every area which is what we need to be in the hunt.
"It's going to be a warm day tomorrow for sure, so keeping the engine and brakes cool and the tyres in check [is important], so we've got to properly on it."
Neal also lamented that he has little support around him on the grid, whereas both the Volkswagens in front and the WSR BMW's behind could gang up on him in the races.
"In the team's championship it's not even a competition because they [Team BMR] have so many cars scoring each time out," added Neal. "The fast-starting BMWs around us are still very quick off the start line. [Sam] Tordoff's just behind me and [Andy] Priaulx's alongside me. [Rob] Collard is two rows back and he'll no doubt be alongside me going into turn one."