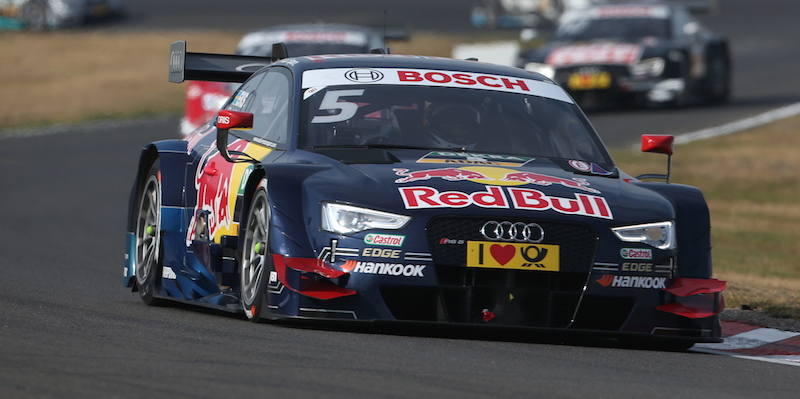 Four weeks after the action that transpired at the Red Bull Ring, Audi Sport will look to make amends for the "scheib ihn raus" saga at Moscow Raceway this coming weekend, following the sanctions imposed on the Ingolstadt manufacturer.
With Timo Scheider being a noticeable absentee this weekend, it may be a difficult task for Audi Sport to get its constructor's title hope back on track.
But one driver that is motivated towards gaining another win this season is Team Abt Sportsline's Mattias Ekström, who currently leads fellow stablemate Edoardo Mortara in the drivers' standings.
Ekström, who has hit the podium each time the DTM has headed to Russia, is looking to take a victory at a track that has served him well.
"So, actually, the only thing that's still missing is a victory," admitted the 35-year-old, ahead of the final trek outside of Germany for the DTM this season.
"I had the heaviest car in the field at Spielberg too and actually shouldn't have been able to win there," he explained, having been surprised of his pace, especially during his win on the Sunday feature race.
The Swede will also have the heaviest car on the grid, with a further 10 kilograms added to his RS5 DTM after his recent successes.
"We simply need to do the best job again. In that case, anything's possible. Every point counts. This year, the title will be clinched by the driver that manages to score good results even with a lot of weight."
Both Mortara and Jamie Green will be looking to challenge Ekström for the lead in the standings, especially as the Italian took 40 points at Spielberg, following a dominant display for the majority of that weekend.
Green will be looking to bring the momentum back in his favour, following on from his initial dominant form in the early part of the year. The Team Phoenix driver, who led the standings coming into Austria, has not scored in the past five races, which also includes two retirements.
Head of DTM, Dieter Gass, will return to active duty this weekend, having been absent from Spielberg due to illness.
"This will be a really tough nut to crack," he explained, as Audi look to close the gap to chief rivals Mercedes-Benz, who are leading the constructors' standings. "We've won at Moscow Raceway before but experienced a pretty difficult race last year. Our aim is another victory."