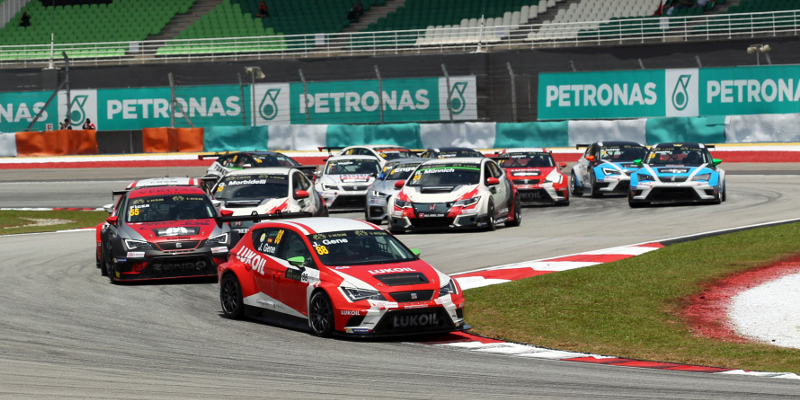 The venue for the opening round of the TCR Asia Series has changed to the Sepang International Circuit in Malaysia, with the planned opening race in Zhuhai in China cancelled for logistical reasons.
The new championship had originally been scheduled to begin at the Chinese circuit in August, but logistical constraints have forced an amendment to the calendar.
"We've been advised by our shipping agents that new regulations regarding the transport of containers into and out of China will affect the ability for us to get cars from Zhuhai to Sepang for round two in time," explained TCR Asia Series promoter David Sonenscher. "In fact the new legislation could well have jeopardised our ability to get the cars to Singapore for the combined TCR International round.
"Frustratingly the new procedures means that cars will be forced to wait as much as two weeks after Zhuhai before they can leave port, and then transport to Malaysia will take another ten days.
"It was always going to be a fast turnaround with three weeks between Zhuhai and Sepang, but this makes it impossible, so we've had little choice but to cancel the first round.
"We are discussing the potential of a replacement round either just prior to, or not long after Macau, however our immediate focus is preparing for Sepang."
Despite the setback, Sonenscher added that the preparations for the new championship are on-track.
"Preparations are continuing with both teams and new manufacturers, and we will be able to release details of both very soon," added Sonenscher. "Things are following a path that we always expected they would, so we're really happy with the way the series is unfolding.
"Zhuhai was certainly a setback, but we can't risk having cars caught in transit, so we had to make the hard decision, but out of every setback comes a new opportunity, and that extra three weeks will give some of the teams looking to make the season opener a little bit more breathing space."
2015 TCR Asia Series – Calendar
4-6 September, Sepang International Circuit, Malaysia
18-20 September, Marina Bay Street Circuit, Singapore
23-25 October, Buriram International Circuit, Thailand
20-22 November, Guia Circuit, Macau