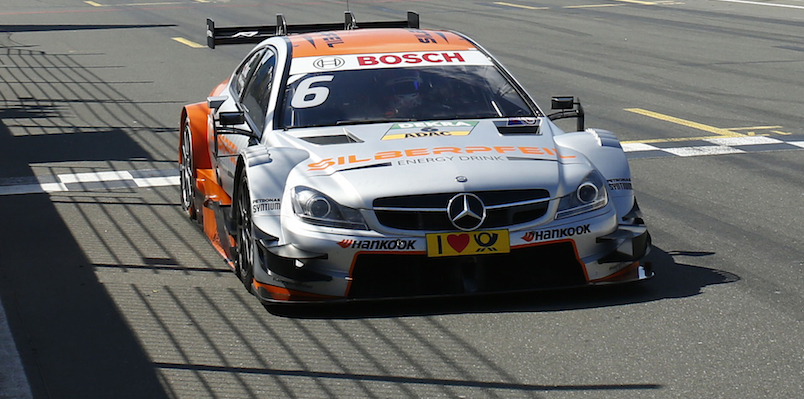 Rounds seven and eight of the Deutsche Tourenwagen Masters (DTM) at Circuit Park Zandvoort this weekend sees Mercedes-Benz looking to carry on their success run, after a clear dominant run at the Norisring two weeks ago.
With two victories from Pascal Wehrlein and Robert Wickens, the momentum is currently in their favour, as the Stuttgart outfit has reduced the gap to Audi Sport to just 48 points.
One man that is looking for his first win since Lausitzring 2014, is 2005 Champion Gary Paffett, who has also won three times at the Dutch seaside track.
"It's a good circuit for me. Zandvoort is a great challenge," said the Brit, who has secured two third place finishes so far this season. " You are punished for every mistake you make. We always have a great atmosphere at the track. The crowd there are great, and looking at the weather forecast, we should have a nice, sunny enjoyable weekend.
"Performance-wise, it will definitely not be as easy as on the Norisring. It's going to be tough, and we will have to work pretty hard to get a result, but I'm really looking forward to it."
Wehrlein, who has been busy with F1 test driver duties alongside his impressive performances in the DTM this year, is looking forward to the challenge that Zandvoort provides.
"After a successful weekend at the Norisring, which included a win for me on Saturday, I'm obviously feeling quite upbeat at the moment," said the current Mercedes F1 test and reserve driver, who knows that street and race tracks are completely different, in terms of the respective approaches.
"We'll certainly do everything in our power to make sure we put on a good show against our opponents in Holland, but it's going to be much more difficult. I'm currently third in the championship, and so we have set ourselves correspondingly ambitious targets. One thing that also makes me feel positive about the coming weekend is that I set the track record last year at Zandvoort. So it's a track where I seem to do quite well."
Another driver that is looking to finally take his first points of a short rookie career so far, is Maximillian Götz, who has either finished outside the top ten or had to retire from all six races so far.
"The fact that all the other Mercedes drivers finished in the points on Sunday is especially frustrating for me. But anyway, at least I learned a lot again. Now I'm looking forward to Zandvoort," admitted the 29-year-old, who said that the weekend at Norisring didn't go that well.
But he is looking to call on some welcome experience from both Formula BMW and GT racing exploits over years past, that may come to help him this weekend.
"I can imagine that the fast corners are very challenging and that it will be hard to drive a perfect lap. Zandvoort has everything going for it: fast corners, slow corners, a bumpy old surface and sand on the track, plus the gravel traps.
"The consequences of straying off track are twice as serious here, so you need to have your wits about you. For the first time, we're going to see how the new, old tyre behaves on a real racing track, which will also be important.