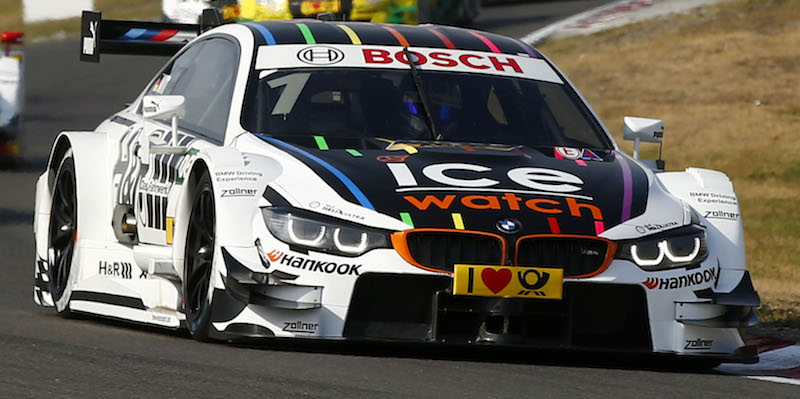 It has been a difficult season so far, but with Team RMG's Marco Wittmann leading a top seven whitewash for BMW Motorsport in this afternoon's Deutsche Tourenwagen Masters (DTM) race at Circuit Park Zandvoort, it saw the Munich brand back to their best.
The defending champion, who led from lights to flag in the fourty-minute race, was more than happy to be on the top step of the podium for the first time since Nürburgring last year.
"It feels awesome to be back on the top step of the podium. I am incredibly happy. That is not only a great success for me, but for the team and everyone at BMW Motorsport," said the 25-year-old, who got better traction off the start and never looked back after passing pole sitter Augusto Farfus.
The Fürth-based racer, who showed his character in winning the drivers' title in such dominant fashion last year, has not had the easiest of starts to his title defence.
Until his win this afternoon, Wittmann had secured three top ten finishes, two at the Hockenheim season opener, along with a fifth place finish at the Norisring a fortnight ago.
However, he echoed the sentiments of all the drivers that helped make this historic feat happen, which further eclipses the two times past, where BMW have locked out the top five places twice previously.
"I think this result will give us a massive boost for the rest of the season. We all needed exactly that kind of result, after the problems we had at the start of the season."
Motorsport Director Jens Marquardt hailed the efforts of all concerned, saying that BMW had "not bargained on this kind of historic result."
"That is obviously an absolute dream result. After a superb qualifying, we were able to take full advantage of the good starting position," he explained, after an action-packed first race amongst the Dutch dunes.
"Above all, it was a team performance – and is good for everyone after recent weeks. However, we know not to get too carried away with this result. We cannot solve all the problems overnight. Zandvoort suits us, and the weight situation certainly helped."
Marquardt's comments show just how much the DTM has changed in such a short period of time, especially after the tyre debacle that emerged with Hankook after Lausitzring. But he is very well aware of the fact that this will not stay the same, even when it comes to what transpires tomorrow.
"However, it does suggest that all our hard work is taking us in the right direction. And it feels great to see the spirit within our team. We will need that over the coming months. We are now looking ahead to tomorrow, and hoping for a good result."
Wittmann's win this afternoon now sees him close up the gap to the title fight, as he now is the leading BMW driver in sixth place on 39 points.