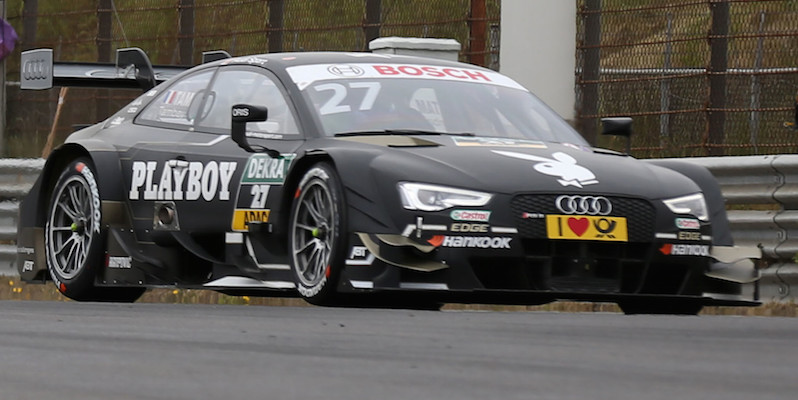 Despite having two of their drivers currently leading the drivers' standings, Audi Sport endured another difficult weekend in the 2015 Deutsche Tourenwagen Masters (DTM) series at Circuit Park Zandvoort.
With both Mercedes-Benz and BMW now within striking distance ahead of the next two races at the Red Bull Ring in two weeks' time, Audi's Head of DTM, Dieter Gass, said that the results they achieved this past weekend were not down to one factor alone.
"A seventh, an eighth and two ninth places are obviously not the outcome of a DTM weekend we wish for. But justifying the results only by the performance weights would be too easy. BMW were very strong at Zandvoort and we didn't make the solid showing here that we were aiming for," he admitted. "That we continue to have two of our drivers at the top of the standings and lead the manufacturers' classification is a positive. The points we clinched here under difficult conditions may be very important in the end."
The four drivers who helped to secure points for Audi this weekend were Mattias Ekström, Mike Rockenfeller, Nico Müller and Adrien Tambay, who finally scored his first points of the season yesterday.
"The race on Sunday was a lot of fun. For me, it was a 60-minute qualifying without being able to take a single deep breath," explained the Frenchman. "Obviously, there were a few controversial situations so that the fans will have a lot to discuss. That's typical for Zandvoort: if you'd like to overtake here, you'll have to take a certain risk. 'Thank you' to my crew for the quickest pit stop in the race. We haven't won any trophies this weekend, but we're going to bounce back."
Ekström, who currently still sits just 5 points behind points leader Jamie Green, echoed the sentiments of a lot of drivers regarding the new format, which came into effect this season: "If you want to be in contention for the title in the DTM, points may be just as valuable on some weekends as a trophy. That was the case this time. The race on Sunday was one of the tougher types – in many of the duels with my colleagues I had a 'box seat'.
"I personally tried to stay clear of all trouble. That was successful because my Audi RS 5 DTM arrived at the parc fermé without a scratch. The Championship promises to become a thriller. I can now take a breather during my vacation in Italy and then we're going to go for all-out attack again at Spielberg."
Green, who failed to finish the first race, ended up outside of the points yesterday afternoon. It was definitely a "weekend with ups and downs" in his eyes, especially with how his season started out so well.
"On Sunday, my Audi felt even better but, unfortunately, in qualifying I got stuck in traffic. From 18th on the grid, it's obviously difficult. In the end, I finished in 13th place. With a better stop, a leap into the points might even have been possible.
"But in spite of scoring no points in two races, I keep leading the standings. That's a good starting base for the coming races."
Just 60 points separate all three manufacturers, as the DTM heads to the Styrian Alps in just a fortnight's time, so the battle between Audi, Mercedes and BMW is increasing in intensity.