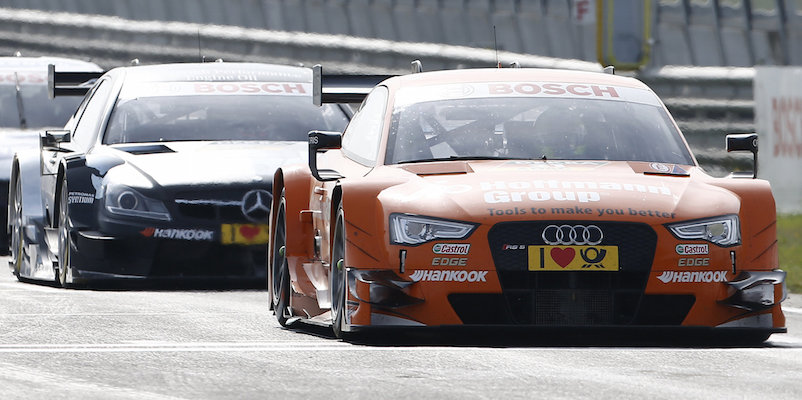 This coming weekend sees the Deutsche Tourenwagen Masters (DTM) head to well-known Dutch circuit, Zandvoort, with rounds seven and eight taking place around the 4.307-km track.
Audi Sport is looking to further its successes at a track that has served them well over the past four seasons, which saw Mattias Ekström take a well-earned victory last year, amidst a safety-car filled race. It also saw 2013 champion Mike Rockenfeller secure the title that year, finishing second to BMW's Augusto Farfus.
The current points leader, Team Rosberg's Jamie Green, will be looking to take his first podium at the North Sea coast-based track this coming weekend, as he leads the drivers' standings by 11 points from Ekström.
It is a very different situation for the 33-year-old, who looks to better his highest-placed finish of fourth place, back in 2012.
"It's high time to change that," said the Monaco-based driver, who has taken three wins so far this year. "This year, I've got a perfect car, plus the weight situation is more favorable for us than at the Norisring."
Zandvoort has also been a welcome haven for two-time champion Ekström, who took his first DTM win at the Dutch track back in 2002. The 36-year-old is the most successful driver at the circuit, with four wins to his credit.
""I've always been running well at Zandvoort so far," said the Team Abt Sportsline driver, who always likes the challenge that the circuit presents. "The circuit offers a fantastic combination of fast and slow corners. The tarmac has a lot of grip, so the tires degrade heavily in the race. Having a car that works well over the distance is a great advantage. With our Audi RS 5 DTM, we're well set."
Last time out at the Norisring, it was a difficult time for the Ingolstadt manufacturer, having lost a substantial amount of points to Mercedes-Benz two weeks ago.
However, Head of DTM, Dieter Gass, is looking forward to the possibility of a strong showing by all eight drivers: "Following the city street race in Nuremberg, we're looking forward again to a 'normal' race track, which happens to be one of the most challenging ones on the DTM calendar. We're determined to again present a more cohesive display than what we did at the Norisring.
"We're aiming for two victories. But Mercedes can always be expected to be in contention. They were strong at Hockenheim and at the Norisring and only had a bad patch at the Lausitzring. Plus, the BMW are still able to run with clearly lighter weight than our RS 5 DTM cars. Let's see how much of an effect that'll have."