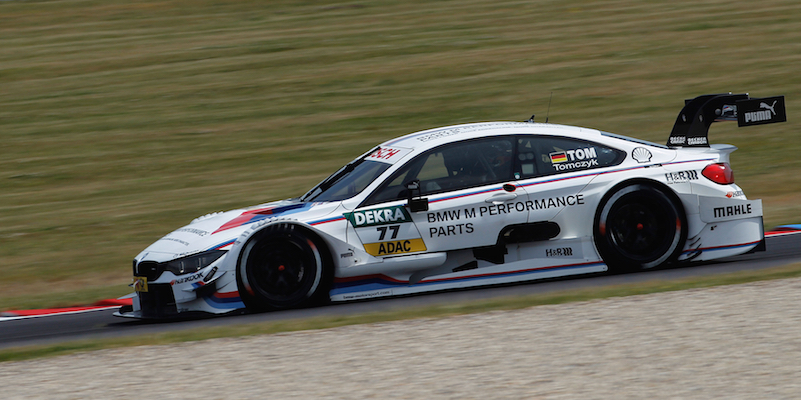 In the wake of the results that BMW Motorsport secured at the Lausitzring for the second race weekend of the Deutsche Tourenwagen Masters, disappointment is very clear to see, as Team RMG's Maxime Martin was the highest scoring driver in both races.
The Belgian, who is partnered with defending champion Marco Wittmann, found himself dropping back dramatically on both Saturday and Sunday, despite all his best efforts.
"I had bigger problems than the others with tyre degradation. That was particularly a problem at the restart after the safety car period. The fact that I was the best BMW driver in both races is the only positive I can take from the weekend."
Motorsport Director Jens Marquardt explained after the second race that it was another difficult weekend for all concerned, especially with the tyres not performing within tolerances, which has since prompted a subsequent investigation .
"After the safety car period you could see that we took two or three laps to get the tyres working. We did not manage to get the maximum performance out of the tyres over the entire distance," said the former Toyota F1 Team boss. "The positive I can take with me from this weekend is the fighting spirit among our teams and drivers. Even though we did not pick up a lot of points, that pleased me greatly."
Whitman himself, also saw the positives out of a troubling weekend, especially as he is currently on 12 points in the drivers' standings, behind 2011 champion Martin Tomczyk.
" I made a very good start to race two, and was able to apply some pressure on the opening lap," said the 25-year-old, who suffered contact with Robert Wickens in the latter part of the race, and did not even gain any profit from the Safety Car period, triggered by Lucas Auer. "I basically spent the entire race driving qualifying laps. This has been a very difficult weekend. We must now look ahead. I want to be back fighting at the front of the field in my home races at the Norisring."
BMW finds itself at the bottom of the manufacturers' standings as the drivers and teams head to Norisring in a matter of weeks, so there is much work to be done, ahead of an encounter on one of the fastest tracks on the calendar.