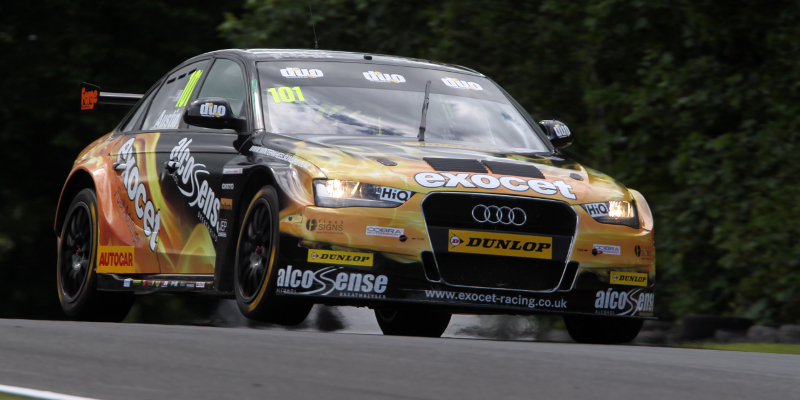 Rob Austin called his lap in qualifying at Oulton Park "one of the best laps" of his British Touring Car Championship (BTCC) career – despite it yielding just 16th position for the Audi driver.
Austin had struggled to make inroads into the top twenty during practice on Saturday, managing just 22nd and 17th fastest in first and second practice, more than a second off the pace.
In qualifying the Evesham racers struggle for pace continued – despite Austin admitting that his lap was one of the best of his touring car career.
"That was properly on the edge all the way round the lap – we're talking seriously committed on a track where there is zero margin for error," said Austin. "And while I had hoped we'd be better placed here with a rear-wheel-drive car I am still very proud of that lap.
"In fact it is one of the best laps of my career and possibly the best qualifying lap that I've done in a touring car. The set-up wasn't too bad but to be just over a second off pole position with how the car was today… even I'm impressed with myself!
"What I'm hoping for tomorrow is scorching hot weather and for the front-wheel-drive opposition to eat their tyres in the three races. It sounds clichéd but we are always stronger in race trim and it's come to us in the past at Oulton. I'll be fighting for every position and point as always."
Austin's team-mate Hunter Abbott fared even worse, managing just 24th out of 28 cars in qualifying. However things were not plain sailing for Abbott, who experienced a number of problems during the day.
"It's been frustrating for us all to be honest – the car sprang a mystery water leak and so I was late out onto the track," explained Abbott. "Then when we fitted new tyres the car instantly started behaving quite strangely as a roll bar had broken.
"Tomorrow is going to be all about picking off as many people as I can and, like Rob says, hoping our better tyre wear works out for us. I'm pretty certain we can still take some points out of tomorrow."
Round 10 takes place at 12:17 BST.