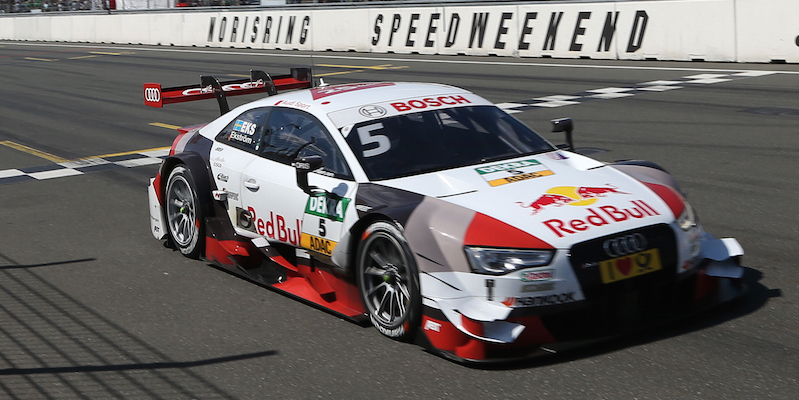 The action provided by the Deutsche Tourenwagen Masters (DTM) this past weekend was intense for all the teams and drivers involved, especially with the customary mix of sunny and wet weather.
Despite having one of the heaviest cars on the grid by 32.5 kilograms, Team Abt Sportsline's Mattias Ekström did not have the best of luck in race one, finishing 17th.
But his performance on the sunny Sunday afternoon saw the Swede battle at the front of the field, as he narrowly missed out on a podium finish to Team MTEK's Bruno Spengler.
"The second race was a thriller. The battle for position three was fun," explained the two-time champion, who found the Hankook tyres rapidly dropping off the pace with just a handful of laps left to go.
"That''s why I couldn''t defend my advantage anymore. I knew my limit, made room for Bruno Spengler, and he managed a good manoeuvre. He was always very fair to me in the past too, so I let him have this chance. He deserves the trophy.
Ekström said that yesterday's feature race was "one of the best race in my career," as he fought as per the "Go Hard Or Go Home" slogan that adorns the back of his race helmet:  "I''m not disappointed by the race result at all, because you have to remember how great our disadvantage was in terms of weight. The race was impeccable and my team found a good set-up.""
Audi's Head of DTM, Dieter Gass, had already understood the fact that the performance weight that the Ingolstadt manufacturer had received as per the regulations, was due to all four races being won by them.
"On no other race track is the performance weight as noticeable, as it is around the Norisring, not least because of the short lap and the traditionally very close qualifying times," said the ex-F1 engineer, who went on to explain the performances from both Ekström and current points leader Jamie Greem were all the more impressive.
"They made the best out of our situation. It''s just a shame that Jamie was prevented from scoring possible points on Sunday. It''s inacceptable how the championship leader was treated on track. It''s not okay when he''s attacked so hard, that he has to go to the pits afterwards with damage."
Gass is nevertheless hopeful on a better set of results in just under a fortnight at Zandvoort: "It's positive that we lost a lot of weight at the Norisring. I'm convinced that we'll be capable of winning again at Zandvoort. However, we won't make the mistake of underestimating our competitors. The fans can already to look forward to two more thrilling DTM races."