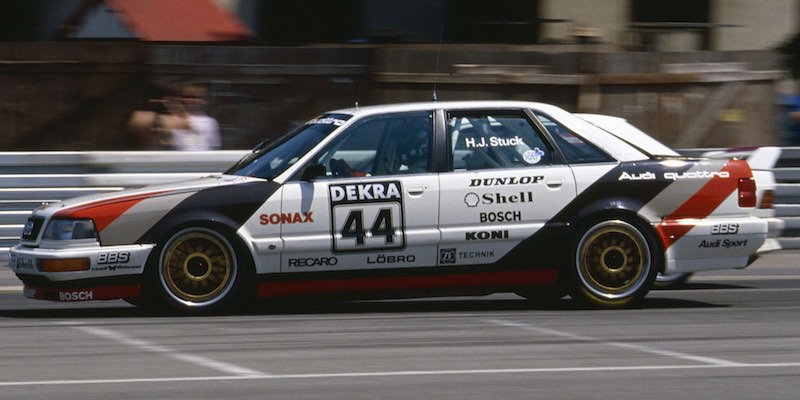 The third race weekend of the Deutsche Tourenwagen Masters (DTM) season heads to the streets of Nuremberg this coming weekend, as twenty-four drivers representing three manufacturers go back into action after a four week break.
Audi Sport will help to relive past glory years, as 1990 and 1991 DTM champion Hans-Joachim Stuck will take to the 2.3 km track in the Audi Sport V8 quattro in a demonstration for the fans in attendance.
The weekend marks a significant occasion for the Ingolstadt manufacturer, as it not only premiered the iconic livery that has made its own indelible mark in racing history.
But the efforts of Stuck, who is the current President of the German Motorsport Association (DMSB), saw the car take its debut win at Audi's "home" track, which is just 90 kilometres north from the brand's global headquarters.
"Thinking about 1990 still gives me goose bumps today," explained Stuck, who secured the title that year. "With the Audi V8 quattro we carried along a different, own community back then that has remained to this day and also helped make the DTM as big as it is now."
Along with this, The RS5 DTM of Team Abt Sportsline's Mattias Ekström will be sporting its own unique livery that will pay tribute to Stuck's, instead of the customary livery that the 36-year-old usually races with.
"In the early 90s, I was sitting in front of my TV and started developing an interest in the DTM. Drivers like Stuck and Röhrl – they were my heroes.," explained the Swede, who is still looking for his first win by the banks of the Dutzendteich.
"Seeing my Audi RS 5 DTM and the V8 quattro from those days standing side by side with the same graphics, and being able to race at the Norisring with the livery from those days, is very special for me,"
The results that Audi had that weekend back in 1990 also sparked the interest of the current Head of Audi Motorsport, Dr. Wolfgang Ullrich: "That's when I seriously began to take notice of Audi Sport and the DTM. I still have fond memories of the many 'red Audi caps' in the grandstands, especially at the Norisring.
"I think it's marvelous that our partner Red Bull spontaneously agreed with our 'special feature' and that, at the Norisring, there won't be a blue but a white Red Bull Audi for the first time. This special feature is meant as a token of our appreciation to the many loyal fans that kept their fingers crossed for us in the DTM as far back as 25 years ago and continue to do so today."