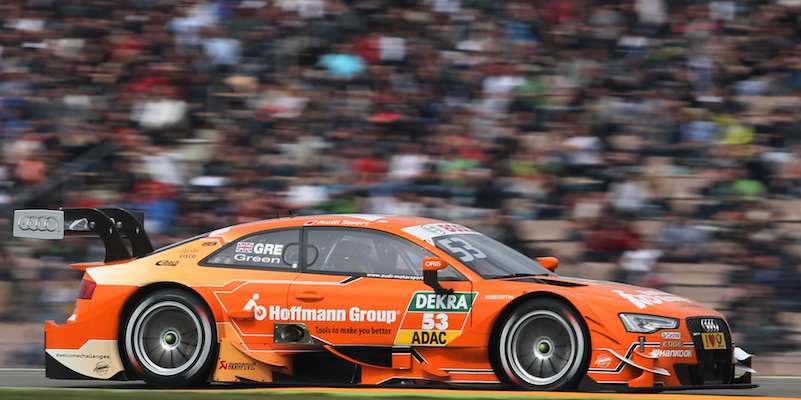 After a long time trying to get his first win for Audi Sport's Deutsche Tourenwagen Masters (DTM) squad since joining them at the beginning of 2013, Team Rosberg's Jamie Green finally got the chance he had been waiting for this afternoon.
Taking the first victory Despite having to deal with two Safety Car periods, the Brit made it count where it mattered the most, crossing the line 2.327 seconds ahead of Mercedes' Pascal Wehrlein.
"I was fast even last year but was simply unfortunate in the races," said the Monaco-based driver, who ended a winless drought that began back in Nourishing in 2012, which was his final victory for Mercedes.
"Today, everything went perfectly. I'm driving in the same team, have the same engineer and feel comfortable in my Audi RS 5 DTM."
It still didn't stop him from celebrating in style on the in lap back to the pits, as he entertained the crowds by pulling off some donuts just off from the pit lane entrance.
It seems as though the run of form that Audi Sport had at the latter part of last year, has now moved into the new season. With four of their cars in the top six after race one, Head of DTM, Dieter Gass, praised the changes that had been made to improve the "show."
"We delivered a very thrilling DTM race to the crowd which proves that the new race format is a step in the right direction," he said, as well as being impressed with Green's performance. "Obviously from Audi's perspective it's even more important that we've been able to make an initial assessment of where everyone stands and have seen that we did good work last winter.
"The Audi RS 5 DTM was the strongest car today and Jamie Green did the most impressive job of putting this on track. In the second half of the 2014 season he was already very fast. His first victory for Audi was practically in the air and simply overdue."