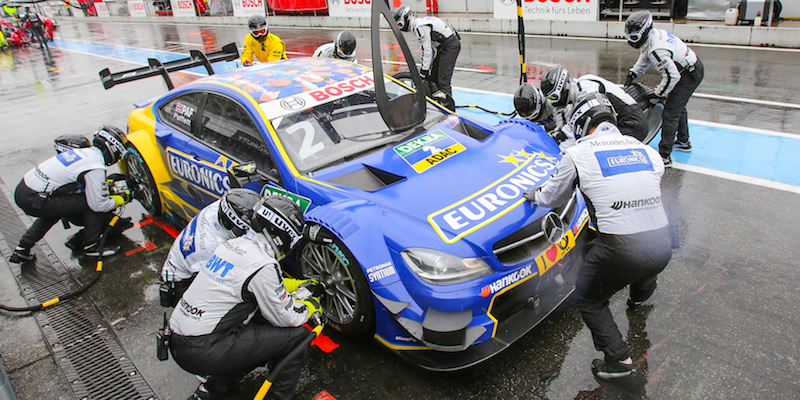 After what was a torrid season in the Deutsche Tourenwagen Masters (DTM) for ART Grand Prix's Gary Paffett last year, the Brit finally has a reason to smile after a weekend that had its fair share of ups and downs.
The 34-year-old was an innocent victim of the incident that involved himself, team mate Lucas Auer and Team Schnitzer's Martin Tomczyk, due to the latter braking too late to avoid contact, forcing all three cars to retire in race one yesterday.
It showed signs of the incident involving the pair at Zandvoort in 2012, when Paffett was battling Bruno Spengler for the drivers' title that year.
However, the Brit showed controlled aggression, as his C63 AMG was on the pace once the weather turned around in his favour, finishing third after starting at the back of the grid.
"What a race that was! The weekend was a rollercoaster. Obviously I was feeling disappointed after the first race yesterday and the second qualifying session today," explained the Suffolk-based driver, who last stepped on the podium in 2013, winning at Lausitzring.
"In these conditions, it's very easy to make mistakes. But the team did a fantastic job, and the race went perfectly for me. After this difficult opening weekend, it's great to be back on the podium."
But for ART Grand Prix, it still ended on a sombre note, as a result of Lucas Auer hitting the barriers by accident during the formation lap, forcing him to not start the race.
"Unfortunately, I made a stupid mistake before the race started. I tried to warm up the brakes on the installation lap and locked up the front wheels and skidded off track," said the Formula 3 graduate." I'm really sorry for the team. They've worked hard and we've been on an upward trend the whole weekend. Sorry, guys."
But Mercedes can be bolstered by the fact that three of their drivers have secured podium finishes this weekend. Pascal Wehrlein and Paul Di Resta also showed the pace of the updated 2015-specification car in the dry, finishing second and third in yesterday's race, but there is still work to do to catch up to Audi Sport.