Rob Collard was left with mixed emotions after the opening British Touring Car Championship round of the season, following a contrasting trio of results at Brands Hatch.
Starting fifth on the grid in race one, Collard enjoyed a fantastic start as he slotted into second behind teammate Andy Priaulx, and after passing the three-time world champion, held on to win the first race of 2015.
Collard's weekend went downhill from there however, with the combination of maximum ballast and soft tyres meaning he finished outside of the points in race two before contact from Josh Cook on the opening lap of race three forced him into retirement.
And despite the highs of the race one victory, the 46-year-old cut a frustrated figure when speaking to TouringCars.Net as he assessed his fortunes.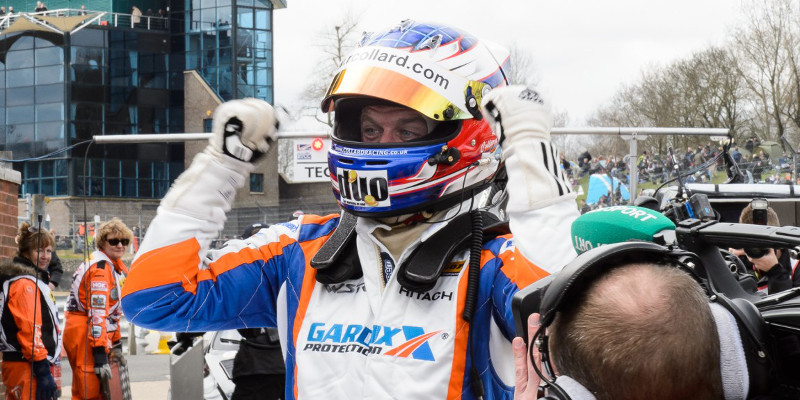 "Race one went to plan, we couldn't have scripted it any better really," said a reflective Collard. "Unfortunately we picked the soft tyre for race two, not expecting to be carrying that sort of ballast which was a double-whammy – the soft tyre and maximum ballast – it just hasn't worked for us this weekend.
"We then took all of the data from the car's setup on race one and applied it to race three, got off the line cracking and got into turn one following the Honda of Gordon Shedden and just got absolutely piled into the back of by Josh Cook.
"He's come over and apologised but that doesn't make it right, it's ruined the start of my championship and he's just walked away from it as if nothing has really happened. The standards in this championship really need to improve."
Collard felt that his race two struggles were similar to those endured by teammate Priaulx in the first race, but felt that his experience with the BMW 125i had helped him against Priaulx and third driver Sam Tordoff.
"I feel we'd made a few improvements to the car from what we learned in race one with Andy and Sam on the soft tyre; we went later into the race and we were competitive so I think we have made a few strides but none of us have tested with 75 kilos in the car.
"I think Andy's got a little bit to learn with the car and the championship but my experience has paid off this weekend so I'm quite pleased."
The nine-time race winner was also upset about the level of boost that his West Surrey Racing team had received, believing that his rivals had been handed a significant advantage.
"Our boost is nowhere near where it should be," he insisted. "I'm getting hit up the rear coming down the straight by the TOCA engine cars and I feel myself going five-to-ten miles an hour faster, it's unbelievable, it's as if we're still in fifth gear and they're in sixth gear.
"We've got the car handling so well, we're going through the corners a lot faster, but down the straight we're a sitting duck, and when the tyres start to wear you can't defend against these cars that are five or more miles an hour faster than us down the straight."
"I can see Donington being a disaster really. On press day we were down on the straights and it's not going to get any better."