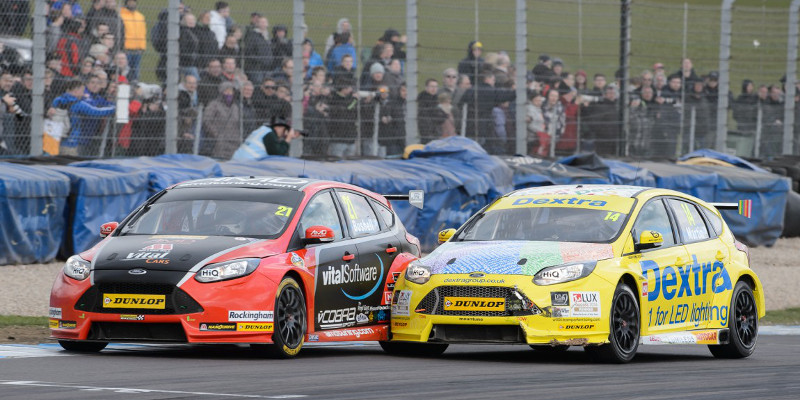 AmD Tuning's Mike Bushell tried to see the positives after a point-less visit Donington Park, as he and his team endured a trying British Touring Car Championship weekend despite early signs of promise.
Having impressed in his Ford Focus on Saturday both in practice and in qualifying – where he recorded the 14th-fastest time – Bushell was confident about his prospects for Sunday's three races with more time to be found from the car.
But his raceday fortunes could hardly have been more contrasted, with two non-classifications in the first two races – which both came after driveline issues – and a late retirement when in contention for points in race three marking a disappointing visit to the Leicestershire circuit.
And leaving Donington without adding to his points tally, Bushell admitted that the day had been a frustrating one, particularly given the early promise that his car had shown.
"It's been a very disappointing race day, there is little more I can say," he said. "The weekend had started well and in free practice we were right in the mix, although in qualifying I was struggling with rear end grid and it meant we couldn't improve our lap time in the same way some of the others did.
"I still felt confident when we went out to the grid in the opening race but when the green flag lap got underway, that was when things started to go wrong. It was frustrating to effectively be forced to sit out the first two races, even more so when the pace in the car was so clear to see in race three as it leaves me to wonder what might have been.
"The contact in race three while I was fighting for position was unfortunate, but this is just a weekend to forget and put behind us."
Team Boss Shaun Hollamby was also disappointment by his team's woes, but remained upbeat after the pace that his driver had been able to show.
"While we can't be happy to come away from the weekend without a race finish, the pace we showed in the final race was very encouraging," he said. "We've had a number of problems that we've faced during race day, but Mike was quicker than a lot of the front runners in race three and if we'd been in the position we should really have been in, I have no doubt he could have been right in the mix at the front.
"That's something that we can take away from the meeting and we need to focus on showing that kind of pace when we get to Thruxton in a few weeks' time. Donington is a circuit where we never seem to have had the best of luck, and unfortunately our curse struck again this weekend."