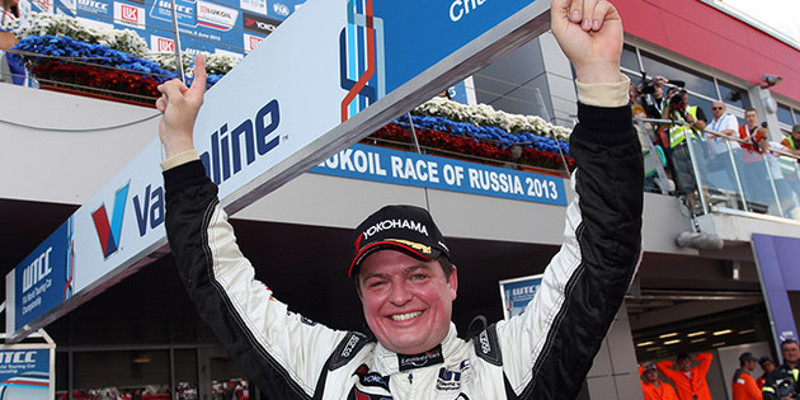 Target Competition have completed their TCR International Series lineup with the signings of Michel Nykjær and Andrea Belicchi.
They will join the previously announced Stefano Comini in a trio of SEAT León Cup racers.
Two-time Danish Touring Car champion Nykjær, 35, has not raced since 2013, when he scored three wins in the World Touring Car Championship, including the feature races in Marrakech and Austria. He had been in the running for the overall championship as a privateer, before having to sit out the final three weekends due to lack of funds.
Nykjær is joined by World Endurance Championship convert Belicchi, 39, who has raced prototypes for the privateer Rebellion Racing outfit since 2008, winning the Petit Le Mans in 2012. Last season was a difficult one for the Italian, as poor reliability meant it took until Fuji in October before his crew finished a race, leaving them with an unbridgeable deficit to overcome in the second half of the season.
Meanwhile, another SEAT outfit, Zengő Motorsport, have signed 18-year-old Ferenc Ficza as their first driver. The Hungarian scored a single win at Silverstone and finished sixth in last year's SEAT León Eurocup.
Confirmed TCR International Series 2015 entries
| | | | | |
| --- | --- | --- | --- | --- |
| Driver | Nat | Team | Car | Events |
| Pepe Oriola | | Craft-Bamboo Lukoil | SEAT Léon Cup | Full season |
| Jordi Gené | | Craft-Bamboo Lukoil | SEAT Léon Cup | Full season |
| Sergey Afanasyev | | Craft-Bamboo Lukoil | SEAT Léon Cup | Full season |
| Frank Yu | | Craft-Bamboo Lukoil | SEAT Léon Cup | Round 1/2* |
| Mikhail Grachev | | Team Engstler | SEAT Léon Cup / VW Golf | Full season |
| Franz Engstler | | Team Engstler | SEAT Léon Cup / VW Golf | Full season |
| Lorenzo Veglia | | Team Engstler | SEAT Léon Cup / VW Golf | Full season |
| Stefano Comini | | Target Competition | SEAT Léon Cup | Full season |
| Michel Nykjær | | Target Competition | SEAT Léon Cup | Full season |
| Andrea Belicchi | | Target Competition | SEAT Léon Cup | Full season |
| Jordi Oriola | | Target Competition | SEAT Léon Cup | Rounds 5 / 6, 9 / 10 |
| TBA | | Zengő Motorsport | SEAT Léon Cup | Full season |
| TBA | | Zengő Motorsport | SEAT Léon Cup | Full season |
| TBA | | Zengő Motorsport | SEAT Léon Cup | Full season |
| Kevin Gleason | | WestCoast Racing | Honda Civic Type-R | Full season |
| Gianni Morbidelli | | WestCoast Racing | Honda Civic Type-R | Full season |
| TBA | | WestCoast Racing | Honda Civic Type-R | Full season |
| Igor Skuz | | Campos Racing | Opel Astra OPC | Full season |
| TBA | | Campos Racing | Opel Astra OPC | Full season |
| TBA | | Campos Racing | Opel Astra OPC | Round 5 onwards |
| TBA | | Onyx Race Engineering | Ford Focus ST | Full season |
| TBA | | Onyx Race Engineering | Ford Focus ST | Full season |
| TBA | | Onyx Race Engineering | Ford Focus ST | Full season |
| TBA | | Proteam Racing | Ford Focus ST | Full season |
| TBA | | Proteam Racing | Ford Focus ST | Full season |
| TBA | | Proteam Racing | Ford Focus ST | Full season |