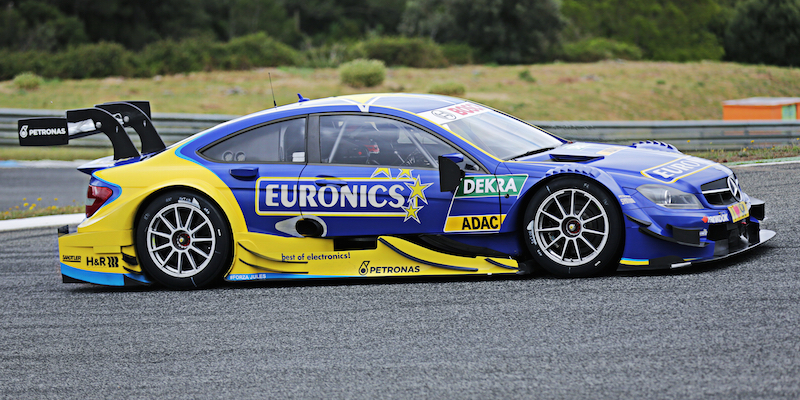 Day two of the official testing schedule for the Deutsche Tourenwagen Masters saw Mercedes-AMG rookie driver Lucas Auer post the fastest lap at the end of the day's running.
The mixed weather at Estoril saw the Formula 3 graduate go top at the end of the rain-shortened morning session, posting a 1:32.748 around the 4.178km track, bettering the time set by Jamie Green yesterday.
"A smashing day for me and the team," said Austrian Auer. "We worked well together and collected valuable data. I'm very pleased to round off this test week with a decent lap time after two days of testing at Estoril."
Audi's Nico Müller set the next best time, a mere 0.049 seconds behind the Austrian, who joins Gary Paffett at ART GP this season. "The thing we'd have preferred to have been better today is the weather,"said Müller at the end of the day. "Unfortunately, we weren't able to go through the whole program due to the rain showers. But the items we checked off were positive. The base fits. I immediately felt comfortable again in the Audi RS 5 DTM. I think we made the best of the day in spite of the weather."
Mike Rockenfeller rounded out the top three, but completed the least amount of laps overall, as Timo Scheider took over for the afternoon's running, placing seventh.
Audi Sport's Miguel Molina and Adrien Tambay completed the top five, as Martin Tomczyk was the fastest BMW driver in sixth, just under three tenths slower than Auer.
Maxmillian Götz was eighth fastest, just ahead of Stuttgart stablemate Christian Vietoris, who was ninth overall. Augusto Farfus was the man that completed the most laps during the day, with the best of his 97 laps placing him in tenth overall.
Defending champion Marco Wittmann was half a second slower than Auer down in eleventh, ahead of Bruno Spengler, with Robert Wickens posting the slowest time of the test day in last.
The final day at Estoril takes place tomorrow, with the last three days of testing taking place in Oschersleben in just over a week's time.
Full times – Estoril test day two
| | | | | | | | | |
| --- | --- | --- | --- | --- | --- | --- | --- | --- |
| POS | NO | DRIVER | NAT | ENTRANT | CAR | LAPS | TIME | GAP |
| 1 | 22 | Lucas AUER | | AMG Mercedes | DTM Mercedes AMG C-Coupé | 74 | 1:32.748 | |
| 2 | 51 | Nico MÜLLER | | Audi Sport Team Rosberg | Audi RS5 DTM | 92 | 1:32.797 | 0.049 |
| 3 | 99 | Mike ROCKENFELLER | | Audi Sport Team Phoenix | Audi RS5 DTM | 41 | 1:32.804 | 0.056 |
| 4 | 17 | Miguel MOLINA | | Audi Sport Team Abt Sportsline | Audi RS5 DTM | 57 | 1:32.857 | 0.109 |
| 5 | 27 | Adrien TAMBAY | | Audi Sport Team Abt | Audi RS5 DTM | 60 | 1:32.878 | 0.130 |
| 6 | 77 | Martin TOMCZYK | | BMW Team Schnitzer | BMW M4 DTM | 95 | 1:33.043 | 0.295 |
| 7 | 10 | Timo SCHEIDER | | Audi Sport Team Phoenix | Audi RS5 DTM | 63 | 1:33.078 | 0.330 |
| 8 | 84 | Maximilian GÖTZ | | AMG Mercedes | DTM Mercedes AMG C-Coupé | 84 | 1:33.133 | 0.385 |
| 9 | 8 | Christian VIETORIS | | Original-Teile AMG Mercedes | DTM Mercedes AMG C-Coupé | 60 | 1:33.163 | 0.415 |
| 10 | 18 | Augusto FARFUS | | BMW Team RBM | BMW M4 DTM | 97 | 1:33.246 | 0.498 |
| 11 | 1 | Marco WITTMANN | | BMW Team RMG | BMW M4 DTM | 90 | 1:33.253 | 0.505 |
| 12 | 7 | Bruno SPENGLER | | BMW Team MTEK | BMW M4 DTM | 82 | 1:33.304 | 0.556 |
| 13 | 6 | Robert WICKENS | | FREE MAN'S WORLD AMG Mercedes | DTM Mercedes AMG C-Coupé | 64 | 1:33.518 | 0.770 |