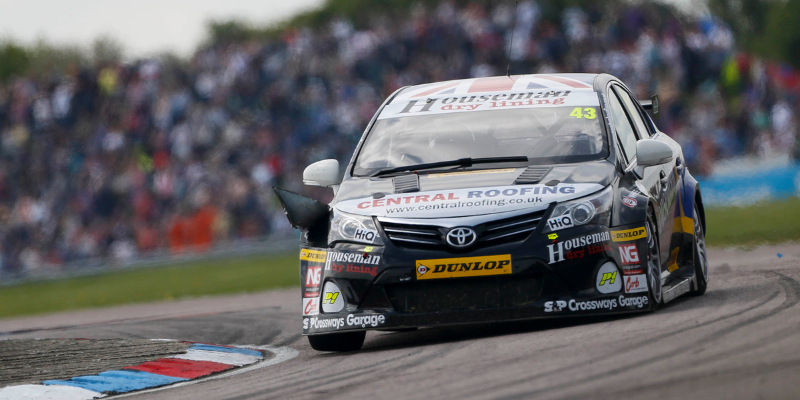 British Touring Car Championship outfit Houseman Racing have announced that former motocross racer Stewart Lines will pilot their Toyota Avensis for the coming 2015 season.
The team, which has competed in various guises in the series since 2010, also announced the arrival of new sponsorship from Maximum Group.net, whose support helped to capture the signature of Lines.
Lines, who has previous experience in the Volkswagen Cup and VAG Trophy, joins the team after Lea Wood announced that he would step down from his driving duties, instead focusing on managing the team as well as mentoring the 50-year-old through his first campaign in the championship.
Despite entering 2015 with no prior experience in the championship, Lines was delighted to sign for the team and hoped that he would be able to quickly adapt to the machinery and the series.
"I'm thrilled to sign for Houseman Racing and to be part of the BTCC," he said. "I know I've got a steep learning curve to get used to the unfamiliar NGTC machinery, but I'm confident that with some good solid track time, I will soon adapt to the new car and prepare to race in this illustrious championship."
Wood, who was the 2013 Jack Sears Trophy champion, was optimistic that Lines could show strongly given his previous experience.
"Stewart is a very competent racing driver and is experienced in one make saloon car championships. This will help tremendously in his adaptation to the Avensis. We are very excited to be working together in 2015."
Team Principal Rob Houseman shared his team's optimism, ahead of a new chapter in the their BTCC history, and welcomed the sponsorship provided by the Maximum Group.
"We are thrilled to sign Stewart for our 2015 BTCC campaign," he declared. "Stewart has a great history in competitive motorsport and is focussed on working hard with the team to get up to speed and be competitive quickly. We'll aid his development as a driver and aim to get him working in a structured, methodical way that is important in delivering a consistent result within the BTCC.
"We are also excited to welcome on board  Maximum Group.NET as a commercial partner for this year. The communications company based in the Midlands supply voice and data solutions for businesses of all sizes and will carry their branding on our race car this season."