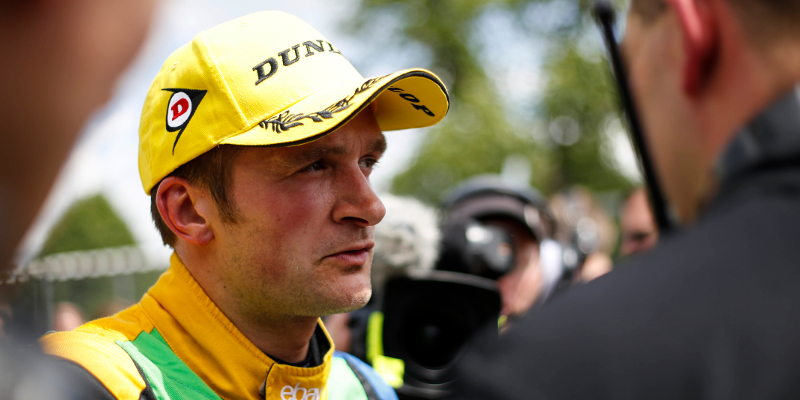 Reigning British Touring Car Champion Colin Turkington has admitted that at present he has "no plans for this year" and is keeping his options open regarding a drive in the coming season.
Turkington became a double BTCC champion in 2014, taking the drivers' title in his WSR-run eBay Motors BMW. But after the title sponsor pulled out, Turkington's plight has been eerily reminiscent of his 2009 campaign, when he took his maiden BTCC title before being left without a drive when title sponsor RAC pulled the plug.
The Northern Irishman admitted at the Autosport International Show at the weekend that he remains focussed on securing the most competitive seat for the season ahead, but admitted that he does not have a drive yet.
"As it stands I've no plans for this year at all," said Turkington to TouringCars.Net. "I'm working on trying to get myself into the most competitive car, the most competitive package I can, wherever that may be.
"It's a difficult position to be in at this stage of the year, coming off the back of winning the British Touring Cars in 2014. It was a surprise to myself and to the team when eBay decided not to continue. The team's had some time to try to fill that void but at the moment I'm unfortunately not connected to anything so I'm just working as hard as I can to be in a car next year."
WSR have already confirmed Sam Tordoff and Andy Priaulx to race two of their three BMW 125i cars in 2015, and Turkington revealed that he has been talking to several teams in both the British and World Touring Car Championship.
"I'm just looking everywhere at the moment," added the Northern Irishman. "Whenever as a professional racing driver you don't have a drive or a job you try to speak to as many people as possible so I'm just keeping my options open and trying to have as many options as possible. In the end I want to be in the most competitive car as possible.
"It just comes down to whatever car I feel is most competitive and gives me the best chance to win. That's the top of my agenda, so the clock is ticking but hopefully in the next few weeks I'll know some more.
"I've been talking to all the teams for sure – any of the vacant seats are an interest, but you've got to be able to put the package together. I've just been making a sure people know that I'm available – that's been the priority.
"That's as much as I know at the moment. I'm not guarding any information, it's not the position I wanted to be in so hopefully in a few weeks I'll be able to share a bit more news."
However, having been in a similar situation before Turkington was remaining calm on the situation.
"It's a similar set of circumstances [to his first title]. But 2009 wasn't the end of the world, as I raced in World Touring Cars in 2010 and Scandinavian Touring Cars in 2011, so I've had great experiences since then and I don't see this as being the end for me."