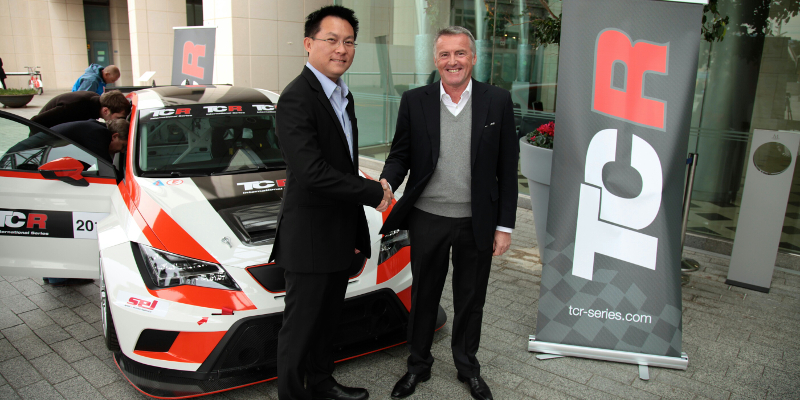 TCR Thailand has begun to take shape this week, with Racing Spirit Co. Ltd. signing an agreement with TCR Promoter WSC Ltd. to become the exclusive promoter for TCR Thailand when the series commences in 2016.
On the occasion of a two-day TCR Official Working Group meeting in Barcelona Paritat Bulbon, Managing Director of Racing Spirit, signed the agreement with Marcello Lotti, CEO of WSC.
"TCR is a very exciting new format that is set to take touring car racing into the future and I believe that on all levels it will be a very good fit for Thailand and serve to move us in the direction we want to go," explained Mr. Bulbon. "It's been very productive to meet the other promoters this week, there is a lot of enthusiasm and clearly we share a lot of common goals.
"That means we can achieve a clear global standard for rules and regulations that will provide stability and lead to evenly matched racing, as well as providing a robust and cost effective platform for all stakeholders.
"We have a great deal of experience promoting touring car racing at the top level in Thailand I now look forward to presenting the new TCR format to our drivers and teams and I think everyone is going to be very positively motivated by the new concept."
At the meeting Lotti was assisted as chair of the meeting by David Sonenscher, who will be promoting the TCR Asia Series in 2015.
Also present at the meeting were representatives from the championship promoters and national sporting authorities of twelve nations, including Benelux, China, the Dominican Republic, Germany, Italy, Portugal, Russia, South Africa, Spain, Thailand, the United States of America and Venezuela.
The inaugural round of the 2015 TCR International Series is scheduled to take place at the end of March, with Balance of Performance [BoP] testing scheduled to take place in February.