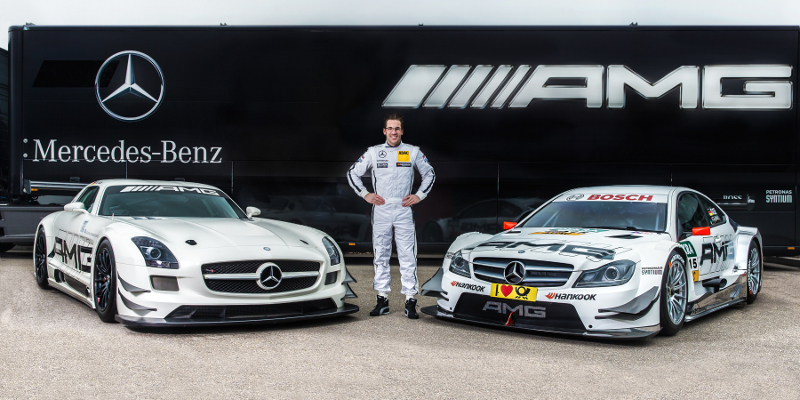 Reigning Blancpain Sprint Series Champion Maximilian Götz will join Mercedes-Benz in the Deutsche Tourenwagen Masters (DTM) in 2015, racing an AMG C63 DTM for the Stuttgart manufacturer.
German Götz won the GT Series in 2014 whilst racing a Mercedes-Benz SLS AMG GT3 and will now switch to a full-time role as an official works driver in the German touring car series.
The 28-year-old, who has previously tested for the marque several times, including in Jerez de la Frontera in Portugal in December 2014, is delighted to be recognised for his previous drives in Mercedes cars.
"The moment when I first found out that I will be racing in the DTM in 2015 will stay with me for a very long time," said Götz. "It's a mega feeling to know that the success I achieved with different teams over the years during my time with the AMG Customer Sports Programme was being closely monitored by the racing bosses at Mercedes‑Benz. It also shows that customer sport has top-class drivers and can be a great springboard to bigger things. It's a little bit like a dream come true.
"I will be doing everything I can to achieve success in the DTM but am also aware that I have a lot to learn this season. I'm now looking forward to the first tests and to working with my new team. Everything else will then follow on from Hockenheim."
Mercedes will expand from seven to eight cars this season, having announced at the end of 2014 the addition of ART Grand Prix to their teams line-up. However it has not yet been confirmed whether Götz will drive for HWA, Mücke Motorsport or ART.
Head of Mercedes-Benz Motorsport Toto Wolff is pleased to be able to welcome the multiple GT winner to the marque's DTM family.
"We would like to welcome Maximilian Götz to our DTM team for the 2015 season," said Wolff. "Max has achieved many successes with the SLS AMG GT3 in recent years. His fine performance has earned him the opportunity to join the DTM.
"His step up from the Mercedes-AMG Customer Sports Programme to our DTM team shows the great opportunities that are open to young and successful racing drivers with Mercedes-Benz. The three-pointed star has been promoting young racing drivers in motorsport for many years, and the Mercedes-AMG Customer Sports Programme is another opportunity to support young drivers in addition to our involvement in Formula 3."