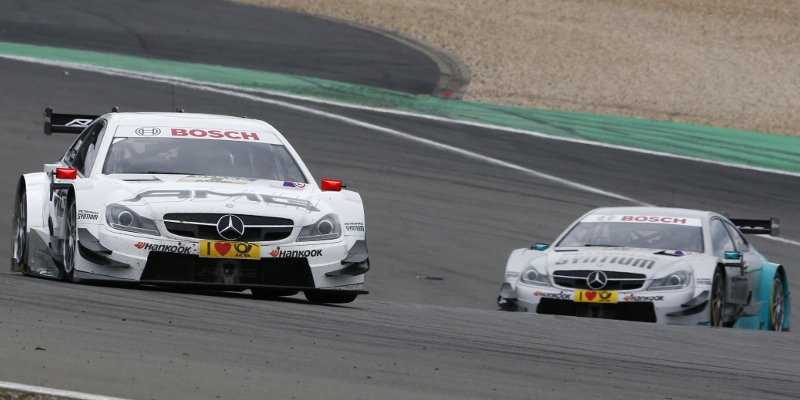 Mercedes-Benz will field eight cars in the 2015 Deutsche Tourenwagen Masters after announcing a partnership in the series with long-time Formula 3 Euro Series Partner ART Grand Prix.
Mercedes came under criticism from rivals Audi and BMW during the past two seasons for fielding six and seven cars in 2013 and 2014 respectively. The goal ever since BMW returned to the championship in 2012 was for all three marques to field eight cars, something which looks set to happen for the first time in 2015 to take the total number of cars to 24.
ART Grand Prix will step up to the German series alongside regular Mercedes teams HWA AG and Mücke Motorsport. The French team have long enjoyed success with Mercedes in the Formula 3 Euro Series, scoring 78 victories, 55 pole positions and 70 fastest laps between 2003 and 2010, as well as scoring six drivers' title, including with current DTM drivers Jamie Green and Paul Di Resta. The team pulled out of F3 racing at the end of 2010, electing to focus on racing in GP2 and GP3.
Frédéric Vasseur, ART Grand Prix Team Principal, is proud to be able to once again represent Mercedes-Benz in international motorsport.
"We've known Mercedes-Benz for many years from working together in the Formula 3 Euro Series, during which time we've come to really appreciate them as partners," said Vasseur, who founded the team in 1996 as ASM F3 Team. "To be picked by the most successful brand in the annals of the DTM to become their latest team fills us with enormous pride.
"We have a steep learning curve ahead of us. Nevertheless, we can't wait for the season opener at Hockenheim to get under way when we will line up in a DTM Mercedes AMG C Coupé on the DTM starting grid for the first time in team history."
Mercedes-Benz's Head of Motorsport Toto Wolff adds that the manufacturer had been looking to expand its DTM involvement only with the right partner, after the marque parted ways with Persson Motorsport at the end of the 2012 season.
"We are delighted to now have on board a strong third team for the 2015 DTM season, long-standing partner ART Grand Prix," said Wolff. "We have in the past achieved many successes in Formula 3 with ART Grand Prix. We would love to repeat that success in the future in the DTM.
"We have always said that we would only ever increase the number of vehicles in the DTM when we could be certain that all the cars deployed would be equally well looked after. We will have three strong teams next year, HWA AG, Mücke Motorsport and ART Grand Prix, who are well placed to contest a successful season in 2015 with the DTM Mercedes AMG C-Coupé."
Mercedes have not yet revealed their driver line-up for 2015, although Gary Paffett has already confirmed he will remain in the series and fellow Brit Paul Di Resta is also highly likely to remain.