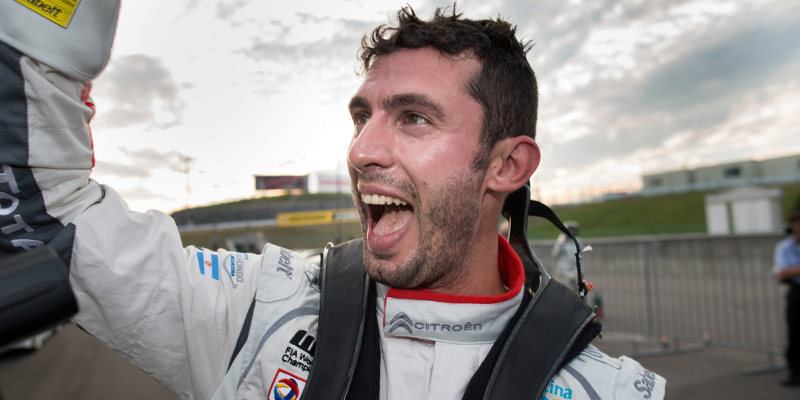 Newly crowned World Touring Car Champion José María López will compete at this year's Race of Champions event in Barbados, joining a star-studded line-up of touring car, single-seater, sportscar and rally drivers.
Argentine 'Pechito' López wrapped up the 2014 WTCC last weekend at Suzuka with one round to spare, beating Citroën team-mate Yvan Muller in only his first full season in the series.
Now López will compete in the end-of-year Race of Champions event in Barbados on the 13th and 14th December 2014.
"This has been an amazing year for me and this invitation to the Race of Champions is the perfect way to cap it off," said López, who has already tasted the victory champagne nine times this year. "At the start of the year I wasn't thinking too hard about the WTCC title but I started taking it really seriously after I won my home races in Argentina. That raised the pressure too so it's great to have made it over the line. I've won titles before but it feels especially good to be a 'world champion'.
"Now I can look forward to racing my fellow champions in Barbados. I'm in no doubt that the competition will be hard but I've spent this year battling the likes of Sébastien [Loeb] and Yvan [Muller] so I'll do my best and who knows what is possible."
Other names who López will be up against at December's event include Tom Kristensen (DTM, Le Mans), Jamie Whincup (V8 Supercars), Petter Solberg (WRC, World RX), Ryan Hunter-Reay (Indycar), Kurt Busch (NASCAR) and Romain Grosjean (Formula 1).
ROC organiser Fredrik Johnsson is pleased to be able to welcome such a high-profile name as López to this year's event.
"Pechito has been a revelation in the World Touring Car Championship this year so we are delighted he will be joining us at ROC 2014 in Barbados," said Johnsson. "Citroën have had the dominant car but to defeat such motor sport legends as Sébastien and Yvan in the same machinery is impressive indeed.
"Now we can look forward to seeing what he can do against our ROC field featuring some of the best drivers in the world. Given that Pechito has already taken such top scalps I'm sure no one will relish taking him on in the same car on our unique parallel track. We hope plenty of Argentine race fans will now make the trip to the Bushy Park Circuit in December to cheer on their new motor sport superstar."
The Race Of Champions, which has been held for over 25 years, brings together the world's greatest drivers from motor sport's major disciplines – including Formula 1, World Rally, Le Mans, MotoGP, NASCAR, IndyCar, Touring Cars and the X-Games – and sets them free to battle head-to-head in identical machinery on a unique track with two parallel lanes linked by a crossover bridge.