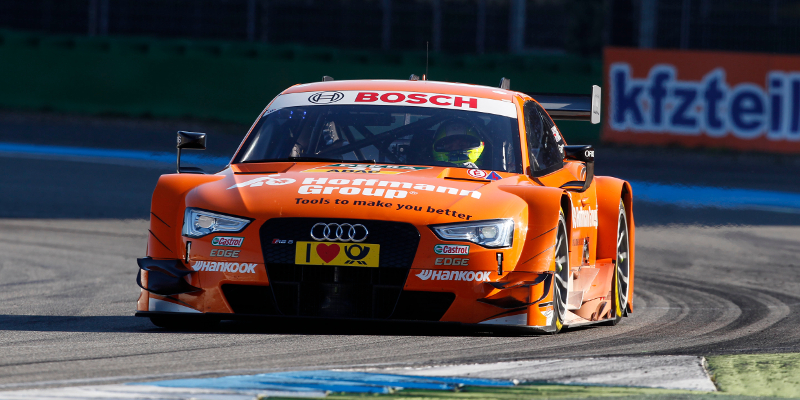 Audi's Jamie Green has admitted that his 2014 Deutsche Tourenwagen Masters (DTM) season has been "like starting again", with the Brit experiencing a challenging year after his change from Abt Sportsline to Team Rosberg in the winter.
Prior to his switch to Audi at the start of 2013, Green had been a winner in each of the previous six season when racing with Mercedes-Benz. However the Brit endured a difficult transition to Audi, scoring just one podium on his way to his worst season in the DTM in 2013.
Green showed improved from in 2014, scoring two podium finishes and finishing just inside the top ten in the championship. In addition, Green was consistently a strong qualifier in 2014, putting his car inside the top ten on the grid for all races except the season opener, and he qualified inside the top ten in half of the races.
Reflecting on his season with TouringCars.Net, Green admits that both years with Audi have been difficult but he remains positive for the future.
"Last year I was with Abt and that didn't work out too well," explained Green. "This year was like starting again. Both years have been challenging. This year I think has just been unlucky. Last year I wasn't quick enough most of the time, but this year the pace has been good, so I see this year as a step forward over last year.
"Going forward with the team I'm with now I'm in a good place, I'm happy here, and that will be good for the future – I feel positive. Obviously the race results are frustrating but if I wasn't quick enough I'd be more frustrated, so it's all there – I just need to keep doing what I'm doing. It's an improvement on last year and the future should be good for me."
Green feels that he hasn't struggled for pace during the season, but that he has all too often been in the wrong place at the wrong time.
"The pace in the races has not been an issue to be honest. The only time when I wasn't quick in the race was at the Nürburgring and I lost all of the front flicks and aerodynamic bits before the first corner. Then I wasn't quick enough in the race but that's logical because you lose a significant amount of downforce when that happens.
"In the first race I damaged the car on the first lap because [Augusto] Farfus was moving around in the braking area and I thought he was leaving the door open and then he turned in. That ended that race. The second race was Oschersleben and I should have won the race, but the safety car came out three times when I was leading by miles in the wet, so that was unlucky.
"At Budapest I didn't know the track very well because I'd never been there before and I wasn't really on it in qualifying. At that stage of the year we hadn't got the car dialled in perfectly.
"We've shown speed-wise in qualifying that we're always somewhere near [to the front], which I think is quite tough to do in this championship because it's so close. Look at Wittmann [in the season finale] who qualified in 13th – that says it all really."
As well as Oschersleben, Green was also caught out by the DTM's rules regarding tyre use, which state that you cannot use the softer option tyre for more than half the race distance. At the Red Bull Ring in August Green was handed a drive-through penalty whilst leading for having stayed out just one lap too long.
"In the races we've just been very unfortunate," added the 32-year-old. "With the rules as they are, with the one pit stop and not being allowed to pit when the safety car is out, you really get screwed over there. I don't see why we need pit windows and all that stuff, and I don't think that not being able to pit when the safety car is out makes it safer. With these rules everybody pits on the same laps anyway, so the pit lane is still super busy. It's a daft rule.
"You had an artificial result in three races – Oschersleben, Moscow and the one at Zandvoort. It's a bit frustrating when despite all of the effort that goes in – working hard to find a tenth of a second – that on Sunday the margins are massive because it's down to other stuff."
Looking forward Green believes he will continue to develop at Audi and admits he is happy to stay in the DTM, which he feels is the best environment to continue as a professional racing driver.
"I'd love to win this championship," admits Green. "I won the F3 championship and I'd love to win this championship before I stop. I'm 32 years old so I'm not too old. In theory I should have four to six years left in me as a proper fast racing driver, and I think this is one of the best places to be as a professional racing driver.
"I think I should only get better [at Audi] in terms of results and performance, so that's why I feel good. I've had races where I've won just on out-and-out pace – I've won the finale race twice – and that's a rewarding feeling when you outperform everybody else. I think that's still possible for me, with Audi and with the Rosberg team."
Jamie Green Season Results
Driving an Audi RS5 DTM (#21) for Audi Sport Team Rosberg.
10th, 43 pts
HOC
OSC
HUN
NOR
MOS
RBR
NÜR
LAU
ZAN
HOC
Round
1
2
3
4
5
6
7
8
9
10
Result
R
18
7
2
R
8
14
17
14
3
Grid
17
10
10
3
9
6
4
3
3
5