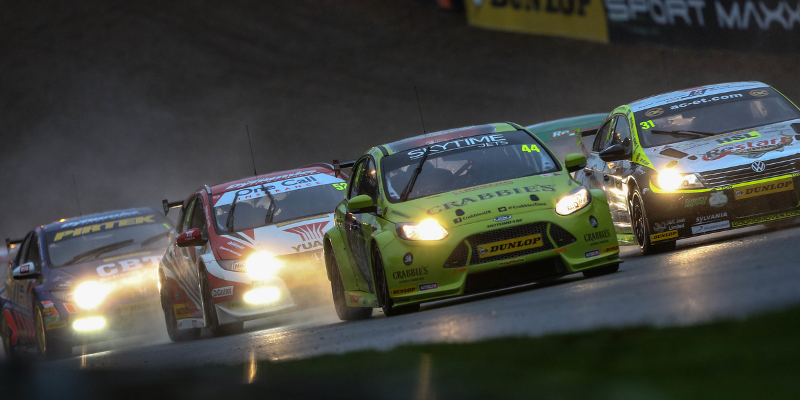 Jack Clarke struggled for words after securing a maiden British Touring Car Championship podium at Brands Hatch, with his second place in the final race marking a 'great end to a great rookie season'.
Despite an inauspicious start to the weekend, Clarke avoided a first corner melee to score the final point in 15th place, before advancing to 11th in Sunday's second race.
But in a twist, Clarke was later awarded tenth and started the third race from pole, after Jason Plato was penalised for contact with Colin Turkington.
After a tentative start in pouring rain, where the 26-year-old was overtaken by eBay Motors' Nick Foster, Clarke fought back strongly and retook the lead after a restart, battling Gordon Shedden for first place before relinquishing the position and protecting second to the flag.
The landmark finish also marked an impressive tenth points finish in eleven outings, and despite the torrid weather that the race was held in, Clarke appeared to revel in the conditions, and was delighted that his performance was rewarded with a podium.
"It was just getting wetter and wetter," Clarke told TouringCars.Net. "We found a groove so it didn't change too much for us, we kept consistently plugging at it and hitting our marks.
"It was horrible, it's what you expect I suppose – we've been pretty lucky with the weather all year, it's like it's been saved for this one last race.
"I think I hit the limit one or two times – you have to find where the grip levels are in the wet so you have to move the car around to get them and feel it, so yes, there were one or two moments but nothing where I really had my heart in my mouth, I had it relatively under control.
"I've spent all year saying 'the drive was alright' and 'we're going in the right direction' but I just felt as though I drove out of my skin today and I'm really chuffed with myself."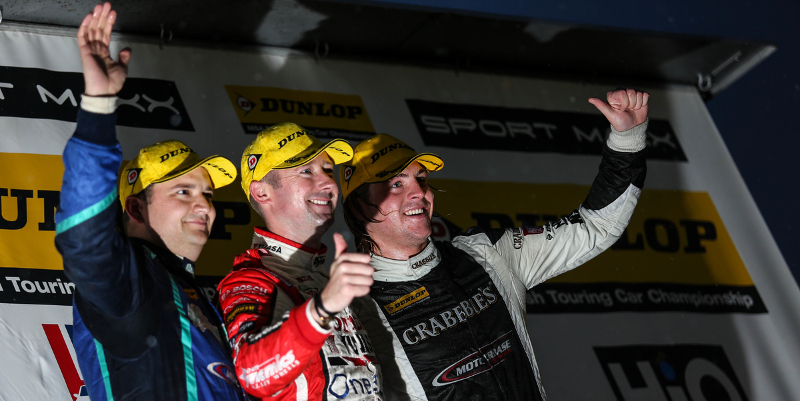 The result was made all the more remarkable by the fact that the Crabbie's Racing driver had qualified in a lowly 20th place a day previously, and Clarke struggled for words as he described his first podium in the series.
"We flopped it a little bit in qualifying so it wasn't the same story yesterday," admitted Clarke. "But what an amazing change of fortunes in 24 hours and it marks a great end to a great rookie season.
"I can't put it into words – the amount of people that I'm looking forward to speaking to about this…I've got a lot of friends who have been to the races and they've been patting me on the back saying 'oh, 15th, that's not too bad' so to finish second, I can't believe it, it's great."
And with confidence high, Clarke suggested that the result could lead to a change in his philosophy heading into next year, with the aim of making visits to the rostrum more frequently in 2015.
"I was tentative about saying our next target was a top five because I didn't want to end on a downer and say 'we didn't hit our targets', but we certainly hit it and we hit the one that probably would have come after that.
"I think we've got to calm down and enjoy this moment because you don't get wet weather, a good wet car, the pole shuffle, that doesn't come every day, so we'll take this moment and tentatively enjoy it and say that's great.
"Maybe I shift my perspective up a little bit now and these things will come, because as soon as the pole came I thought 'I've got to do this, this is an opportunity and we've got to convert it' and we did; we couldn't have come first, Gordon was too quick, it wasn't impossible but it was looking questionable at points so second was a great result and it's massive for Crabbie's Racing."