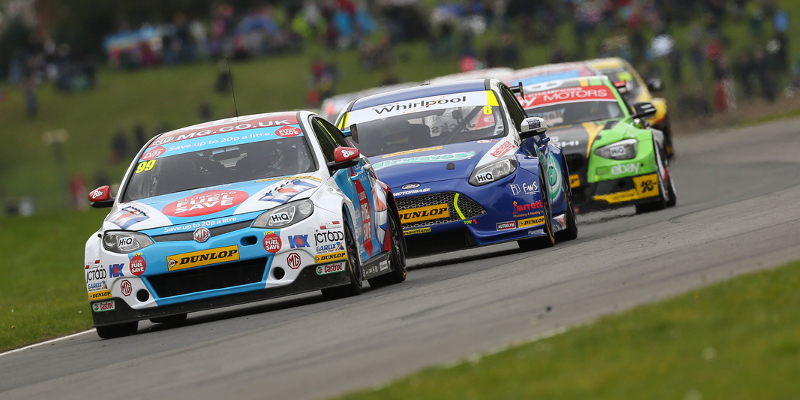 British Touring Car Championship (BTCC) bosses have revealed a number of changes for the 2015 season in an effort to quell some of the concerns expressed during the 2014 season and to mix up the racing.
Following the annual end of season meeting between the teams and TOCA, a raft of changes have been agreed for next season.
Success ballast is set to "increase considerably" from the current maximum of 45 kg, although the exact increase has not yet been announced. The reason for the increase is due to the lesser impact the ballast has on the current NGTC cars, which are heavier than previous generations of racers. The current system of success ballast dates from the Super Touring era. Currently the top five drivers in a race are handed success ballast in the order of 45 kg, 36 kg, 27 kg, 18 kg and 9kg.
Independent analysis of the start line performance of front and rear wheel drive cars will be analysed by Cosworth and Xtrac with a view to "equalising them more through engine management programming".
The boost level of cars will be set for each car / engine type for the season based upon recent testing and re-validating of the engines, which has been carried out by TOCA and an unnamed independent company. The controversial lap time boost adjustments are set to be dropped due to the increased significance of success ballast.
There have also been changes proposed to the current sporting regulations. The grid for race two of each event will now be decided by the order of fastest lap times in race one. However, if a driver changes tyre during the race then any faster lap times will be discounted, in order to avoid drivers pitting for new rubber in order to post a faster lap time.
The Jack Sears' Trophy is also set to be revised for the third consecutive season. It is proposed to be awarded to the top 'rookie driver' in each event, dependent on the number of rookies entered in the 2015 season.
TOCA have also pointed out that "the finer details to some of these changes are yet to be finalised prior to formal ratification. This list is not exhaustive and some further changes may be added/amended. The final and approved regulations for the 2015 season will be confirmed in due course".