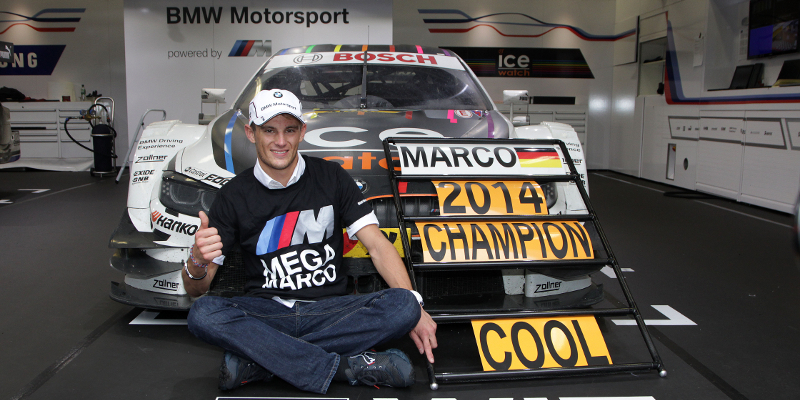 BMW's Marco Wittmann has hailed his maiden Deutsche Tourenwagen Masters title as 'unbelievable' after the 24-year-old secured the top honours with two rounds to spare at the EuroSpeedway Lausitz on Sunday.
Wittmann wrapped up the title with a sixth-placed finish thanks to nearest rivals Mattias Ekström and Edoardo Mortara failing to score any points at the weekend. It means that Wittmann now has an unassailable 69 point lead over Christian Vietoris with just 50 on offer in the remaining two races.
The title marks the first time since the start of the current DTM era that a driver has taken the title in only his second year in the series. Wittmann is also the third-youngest champion of all time, at just 24 years old.
"Unbelievable. This is an absolutely awesome feeling," said an ecstatic Wittmann after taking the title. "The constantly changing conditions made it a really difficult race today. There were a lot of battles, and I just tried to stay out of bother. A few drivers skidded off the track and it was topsy-turvy at times.
"After yesterday [with BMW struggling in qualifying] I did not really believe that it would work out today. On the whole, however, we were able to drive a clean race.
"I am so emotional now, it is crazy. The season has been incredible so far. I am so proud of BMW Team RMG and BMW Motorsport – everyone has done a sensational job. The pit stop was superb again today. To already know that I am the champion is amazing. I think we will have a fantastic party today."
It is not only Wittmann's first title, for the German has also delivered the first title for Stefan Reinhold's BMW Team RMG outfit. Reinhold's team only joined the DTM at the start of 2012 with BMW's return to the series.
"This is a dream come true for us," said Reinhold. "It is amazing that we have already secured the Drivers' title here at the Lausitzring. At the moment it is still hard to take it all in.
"After the first two years we tried to improve in all areas. We started to work very closely with the two drivers early in the winter. We had good tests, which meant we went into the first race full of confidence – and won at the first attempt. A success like that obviously gives you a real lift.
"It is never a given, but success comes more easily once you are at a good level. At the same time, there is always the pressure to maintain this level all season. That pressure is now a little less for us after today."
Whilst Wittmann's title is secure, Reinhold says that the team must now turn their attentions to winning the teams' championship, in which they are current first with a 75 point advantage over Audi Sport Team Abt.
"We still have a lot of goals: we want to win the Team competition and the Manufacturers' Championship with BMW. Therefore, we must continue to go about our work in a focussed manner. We now head to Zandvoort, which is Marco's favourite circuit, so I am already looking forward to the next race. We have some celebrating to do first though."
BMW Motorsport Director Jens Marquardt also paid tribute to Wittmann's performance, lauding it as 'an absolutely mega achievement'.
"Marco fully deserves to be crowned champion so early in the season," said Marquardt. "The BMW M4 DTM, BMW Team RMG and he have formed the perfect unit right from the start of the season.
"We have continued the tradition of winning the title in the first season with every new car we have fielded in the DTM. This is something we are very proud of. Marco is the youngest German champion of all time, and hardly anyone has ever wrapped up the title so early in a season – and all in just his second year in the DTM. An absolutely mega achievement."