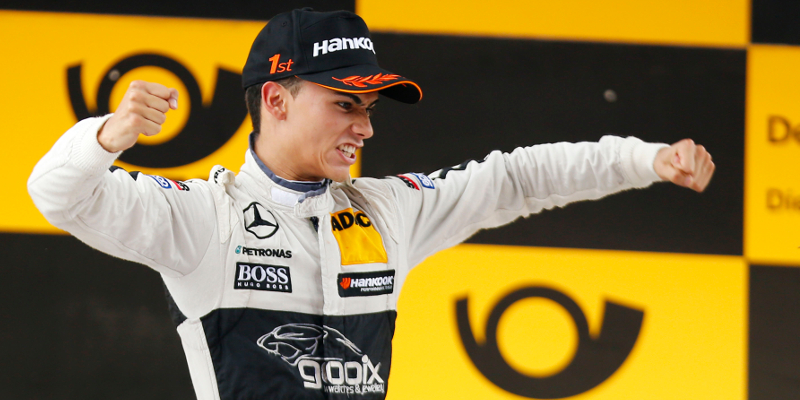 Pascal Wehrlein has admitted that it 'hardly gets any better', after the Mercedes driver scored pole position and victory in the Deutsche Tourenwagen Masters at the EuroSpeedway Lausitz.
Wehrlein led the race from pole position and was unchallenged throughout, despite making a small mistake on lap 16 when he slid off the track. The win is the first for the 19-year-old and comes in only his second season in the DTM.
"First pole, then the win. It hardly gets any better," said Wehrlein, who is now also the youngest-ever race winner in the DTM. "I'm mega happy. My team worked terrifically well – the pit stops and our strategy were all super.
"We waited until the track was dry enough for options, then we switched. That was definitely the right choice. My pace was really impressive and I was able to control the race from the front."
Wehrlein also praised his former Formula 3 rival Daniel Juncadella, who missed out on a podium finish after receiving a drive-through penalty whilst running in third.
"I've had an incredible day and a fantastic week. It's all been simply fabulous," said an elated Wehrlein. "It's a pity that Daniel [Juncadella] didn't finish on the podium today. He thoroughly deserved to and it would have been great to savour my maiden win with him by my side on the podium."
Following Mercedes' third win of the season, Mercedes' Head of Motorsport Marketing and Communications Wolfgang Schattling praised Wehrlein's performance in the race.
"Pascal's performance was extraordinary," said Schattling. "He maintained his secure lead to the finish line, becoming the youngest winner in the annals of the DTM. We produced the previous youngest ever DTM winner 19 years ago in Dario Franchitti – back then, Pascal was just being born."
Schattling also admits that Mercedes still have plenty of work to do, as the marque continues to struggle in the dry. Sunday's race at the Lausitzring was held on a damp and drying track – conditions which also yielded Mercedes' two other wins this season.
"We're really enjoying today's success, but we know that we've still got a lot of work in front of us," added Schattling. "Compared to the opposition, our showing in the dry is still not that good. At any rate, it's brilliant to know that our team can always do a top-class job especially when conditions are as tough as these. We never expected before the race to get four cars in the top five."