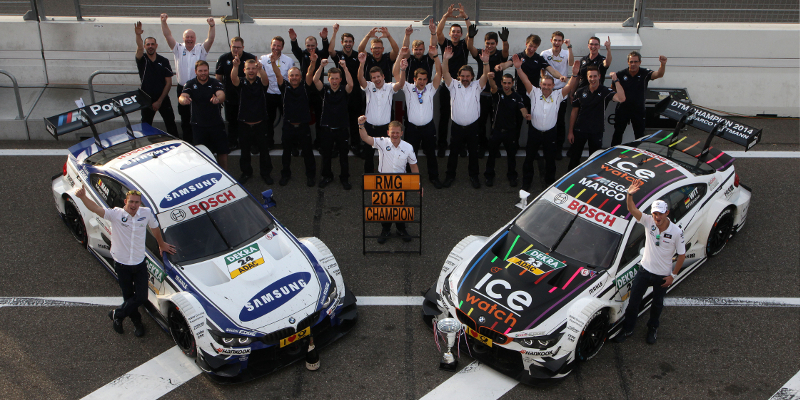 BMW Team RMG's Stefan Reinhold says that the DTM title "means an awful lot to us" after his outfit wrapped up the teams' title at Zandvoort, just two weeks after taking the Drivers' title with Marco Wittmann.
Reinhold's drivers Wittmann and Maxime Martin finished Sunday's race in second and sixth to guarantee a first Teams' title for the young outfit.
"We are obviously on cloud nine at the moment," says an elated Reinhold. "Winning the Drivers' title with Marco Wittmann at the Lausitzring was a sensational success in its own right. However, the DTM Team title also means an awful lot to us. After all, it is the reward for all the hard work we have put in over the past months and years.
"The title also shows that, as well as the outstanding Marco, Maxime Martin has also done a fantastic job – and in his first season in the DTM. We are very proud of that. We have really performed superbly as a team this year."
Between Wittmann and Martin, RMG have scooped up an impressive five wins, six podiums, four pole positions and two fastest laps during the 2014 season. Reinhold admits that such stats have come as a result of both drivers feeling well suited to the M4 DTM.
"Within a team, you have a certain technical line with the car, and in our case this suits both drivers. Both have performed superbly this season. Marco had a sensational year, while Maxime, as a rookie, has improved consistently. A lot of things came together very nicely for both of them."
To many, RMG's success has come somewhat out of the blue, as prior to 2014 the team failed to score a single podium with either Martin Tomczyk or Andy Priaulx in 2013 on their way to 10th in the classification. In fact, the team's first win did not come until the opening round of the 2014 season at the Hockenheimring.
"You always have to set your sights high," admits Reinhold. "I stood up in front of the team at our Christmas party and told them in no uncertain terms that we are in it to win in 2014. In motorsport, you simply cannot be satisfied with being in the middle of the pack. Everyone embraced this approach and pulled their weight. It is always important to think positively in sport.
"When we started our DTM project we were very confident. That suffered a little last year. However, the confidence returned over the winter when we saw that things were running well during the tests. Then we enjoyed immediate success after the start of the season, which gave us extra motivation.
"The guys are now obviously hugely satisfied to be on top after many years of hard work – especially in such a hard-fought series as the DTM. You cannot overemphasise that."
With BMW still gunning for the overall manufacturer's title, Reinhold admits that their main celebration will have to wait until after the end of the season.
"We have already had one spontaneous party at the Lausitzring. Hopefully we will also be able to celebrate the Manufacturers' title with BMW and the other teams in Hockenheim. Until then we will remain fully focussed.
"However, we do have a party planned at our place in Niederzissen, where we will get all those involved at BMW, all the team members, and friends and supporters together. They have all earned it."