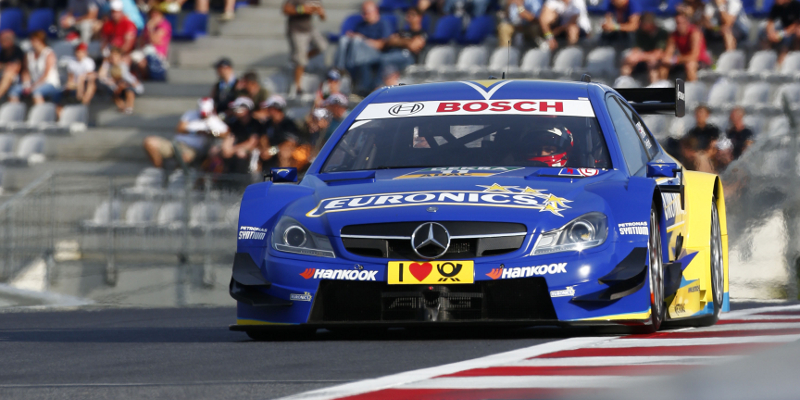 Mercedes' Gary Paffett is expecting a difficult Deutsche Tourenwagen Masters race at the EuroSpeedway Lausitz this weekend, despite the Brit having taken victory at the circuit in 2013.
Paffett is currently enduring his most difficult season in the DTM to-date, having taken just one points finish and languishing down in 21st in the championship standings. The former champion finished down in 15th position last time out at the Nürburgring.
"I won last year's race, which was obviously the highlight of the season," said Paffett, who has not won a race since. "This time, it's going to be difficult for us. We need to carry on working hard. In the last race, we managed to make some progress, and we'll be aiming to build on that at the Lausitzring."
The Brit describes the circuit as being of a highly technical nature – something which means it is unlikely to play to the strengths of Mercedes' struggling C-Coupé.
"I like the Lausitzring – we drive on parts of the oval race track, which is pretty interesting," explained Paffett. "The track has a good mix of slow and fast corners. It's a highly technical circuit with some very tight chicanes that lead into long straights.
"As a driver, you have to concentrate fully at all times. It's possible to choose different racing lines, which can either gain you time or lose it. I've been quite successful at the Lausitzring, so I'm always happy to return there."
The Lausitzsring may be the last race that the 33-year-old has to endure the marque's problematic current car as an upgraded machine is expected to make its first appearance at Zandvoort at the end of September.
"As a team we now have a much better understanding of the car and are able to get more out of it," Paffett told Motorsport-Total.com. "With the upgrades for Zandvoort we can then take a further step and maybe fight on our own for the win."
However with the upgrade package still several weeks away, Mercedes-Benz Head of Motorsport Toto Wolff played down any chance of challenging for the win so soon.
"Last year's race was especially enjoyable for the fans with Gary's race win. Repeating that result this time round will be very difficult," predicted Wolff. "We produced a creditable team performance in the race at the Nürburgring: five cars in the top ten is definitely a step in the right direction. Even so, P4 to P6 plus ninth and tenth means that we're still not back where we think we belong, namely at the very front of the field.
"Our aim is to win races and be title contenders. So there is still a long and arduous road ahead of us before we meet our own expectations. Consequently, we will carry on working hard to reclaim our place at the top of the DTM."