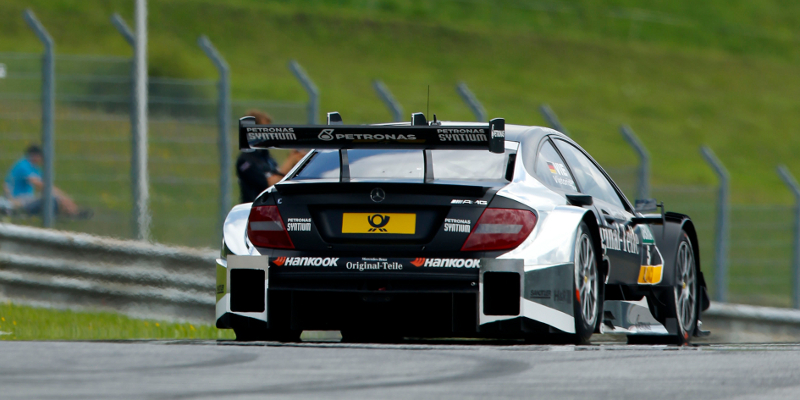 Mercedes-Benz will compete in the Zandvoort round of the Deutsche Tourenwagen Masters with a new C-Coupé for one of its drivers, although exactly who will get their hands on the new car has not yet been decided.
Mercedes were granted a homologation exception in June by series organisers ITR, and have spent the past few months preparing their new car. The marque have struggled with the aerodynamics of their C-Coupé throughout the 2014 season, although they have still managed to take three wins in changeable conditions this season.
Christian Vietoris, the manufacturer's lead driver in the championship standings, says that a decision on who drives the new car will be made in the next couple of days.
The German does not expect the new car to be a significant advantage, however. "I think there is no great advantage to having a new car," said Vietoris. "Therefore at the beginning a new car is not expected to be a big advantage."
Vietoris, as Mercedes best-placed driver in the championship battle, therefore faces a big challenge in order to finish the season as runner-up.
"I'm heading to Zandvoort this weekend and the penultimate race placed second in the championship – I never expected that after the tough start to the season," admitted the 24-year-old. "We've noted a definite upward trend in the last few weeks. This is the reward for all the hard work our guys have put in during the past few months, and hopefully, that is set to continue. Our team deserve it for their tireless efforts."
Mercedes Head of Motorsport Toto Wolff believes that, despite a 1-2 result last time out for Pascal Wehrlein and Vietoris at the Lausitzring, the Zandvoort weekend will be difficult for the brand.
"Races in Oschersleben, at the Norisring and in the Lausitz have shown that our team are able to make the most of the situation and to come up with a good strategy in difficult conditions," said Wolff. "These results and our upward trend in recent weeks are a just reward for the hard work that the guys have put in since the beginning of the season.
"Zandvoort this weekend will present another tough challenge that we intend to meet head on and overcome together as best we can. In contrast to the Lausitzring, the track characteristics at Zandvoort don't really suit our car. But as always, we'll be trying to get the maximum out of our package."
UPDATE – Mercedes confirmed on Thursday that Vietoris, as the marque's leading driver in the championship, would drive the new car at Zandvoort.