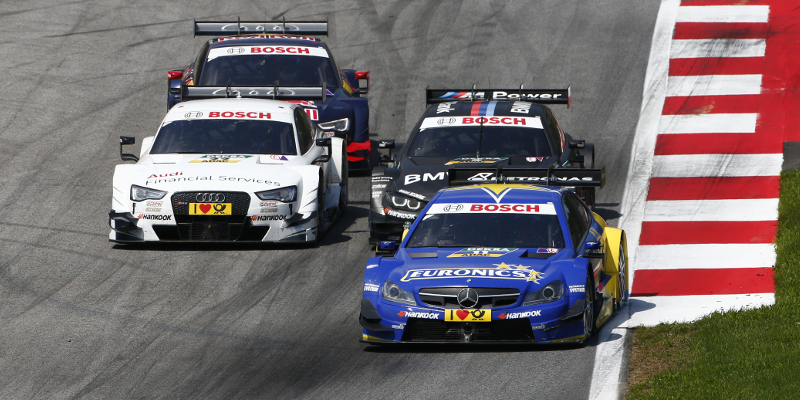 Mercedes-Benz's Gary Paffett admits that he is expecting a 'tougher' challenge in this weekend's Deutsche Tourenwagen Masters race at the Nürburgring, with the nature of the circuit purportedly not likely to suit the marque's C-Coupé.
Paffett finished a lowly 19th overall in the previous race in Austria, at a track which was deemed more likely to suit the Mercedes cars. The Brit is currently enduring his worst-ever season in the DTM in 11 seasons of racing, with only one points finish to his name.
"The track at Spielberg two weeks ago suited the particular strengths of our car more than most," explained Paffett. "On paper, we can once again expect a tougher challenge at the Nürburgring.
"The most important thing for us there is to get the maximum out of our package and continue our learning curve. The more we learn together as a team, the better it will be for the remaining races."
Despite being the second-most winning driver in DTM history, Paffett has only once previously taken victory at the circuit in the Eifel Mountains, in 2004. Nevertheless the Brit enjoys racing on the circuit, with the 3.639 km short circuit being utilised this weekend.
"I enjoy competing at the Nürburgring, but it's a difficult track to drive on," added Paffett. "The layout features a lot of slow and medium-fast corners. From my own perspective, I'm hoping to have a better race weekend than the last one at Spielberg.
"The weather can play a major role at the Nürburgring, so if the conditions present us with opportunities, we have to exploit them to the full."
Toto Wolff, Head of Mercedes-Benz Motorsport, emphasised how the characteristics of the Nürburgring are less likely to suit the marques cars than the previous race at the Red Bull Ring.
"Next weekend we can expect a tough challenge at the Nürburgring, as the track characteristics are less favourable to our current car than they were at Spielberg," said Wolff. "Nevertheless, we will be aiming to secure the best possible outcome."
Wolff also took a swipe at the DTM stewards who handed driver Robert Wickens a drive-through penalty and subsequently a black flag at the previous round after Mercedes' were deemed to have carried out an unsafe release in the pitlane.
Shortly after the event Wolff wrote an open letter, criticising the decision, which ultimately detracted from an until-then exciting battle for the lead of the race.
"When in doubt, decisions must be made in the spirit of the sport and in the interests of exciting racing," said Wolff at the time. "Otherwise, we see the credibility of the DTM and of its status as the world's most popular touring car series being put at risk in the medium term."
With regard to this weekend's racing Wolff concluded: "We hope that we can deliver an entertaining race with exciting overtaking and spectacular action for the fans watching at the track and at home on TV."